Submitted by

Andrea

on August 14, 2012 - 10:34am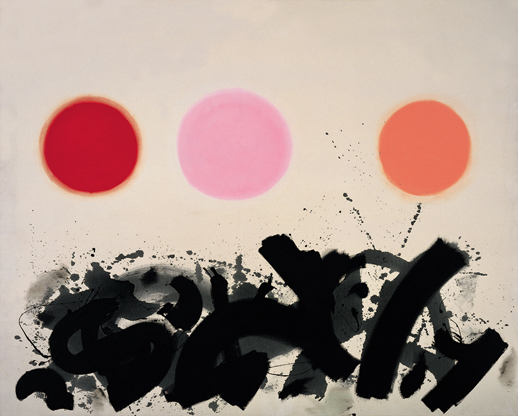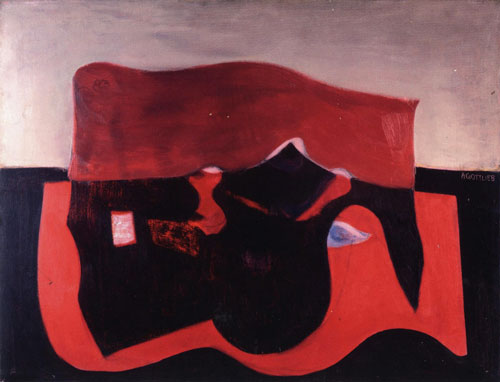 Every so often an exhibition elsewhere in the Cultural District relates to works in the Modern's galleries. While taking in American Vanguards: Graham, Davis, Gorky, de Kooning, and Their Circle, 1927-1942—a wonderful exhibition at the Amon Carter Museum of American Art—I noted that a few of the Adolph Gottlieb paintings on view hold interesting comparisons to our own Gottlieb painting, Apaquogue, 1961. In particular, Untitled (Still Life), 1941, is an excellent early example of Gottlieb's interest in striking a delicate balance between two (quite different) halves of the same composition. In Untitled, a biomorphic mass made of brilliant cadmium, somber red, faint pink, and black, hovers in front of a ground of pink-grey and black bands. These bands bisect the composition horizontally with the upper, lighter strip of color positioned above the heavier, darker swath of color. While the upper register of the painting's ground is slightly thinner than the lower register, Gottlieb creates visual balance through his inclusion of the above mentioned mass of color. Through careful placement of varying shades of red, Untitled (Still Life) is given visual heft and lightness just where it needs it. What would have otherwise been a bottom-heavy color study is transformed into a sophisticated meditation on form, and the expressive qualities of color.
Likewise, Apaquogue is another careful study in balance and asymmetry. The lower register of the large cream-colored canvas is marked with a wide layer of energetic, thick black brushstrokes. With splats of black paint thrown in every direction, each stroke evidences the artist's hand. Hovering above this strata of expressionistically applied paint are three colored orbs—deep red, pink, and salmon. These circles of pure color are asymmetrically applied; their slightly non-regular positioning is carefully balanced by their respective color and slight modulations in size. What is striking about Apaquogue is the balance that exists between the expressionistic lower section and the coloristic upper half. The salmon-colored orb pulls to the right, away from the path of its sister circles on the left. Deftly, Gottlieb brings this wayward bit back into the paintings orbit by connecting it to the composition's lower, graffiti-like register with a fine spray of black paint. Action-based painting and careful placement of color come together in this studied flare-up of simple, black oil paint. As in Untitled (Still Life), the effect of this choice on the overall harmony of the composition is understated, yet crystal clear.
Thumbnail: