Submitted by

leslie

on February 26, 2013 - 10:49am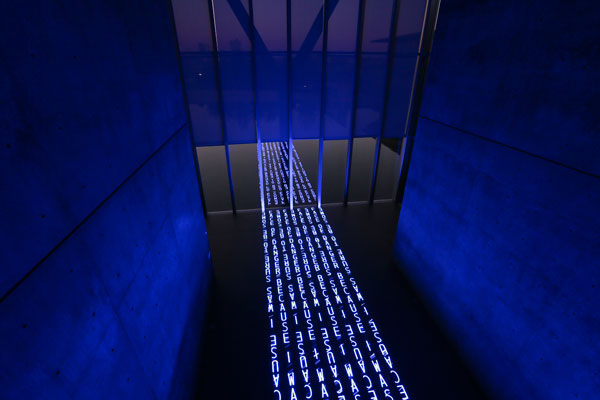 As the nine series included in Kind of Blue, 2012 attest, there is never a single voice in Jenny Holzer's work. This cacophony of perspectives is what gives the words their dynamism and power. The piece consists of a twelve-hour loop that scrolls in various formats along the strong horizontal LED strips of Holzer's site-specific installation. The vibrant luminosity of the blue text scrolls first toward, then away from the reflecting pond, bouncing off soaring walls of glass and reaching far beyond the confines of the gallery.
Such reflections, coupled with the brilliant blue light filling the expanse of a double-height gallery, offer us visual bounty. This concept, of giving the viewer a gift, is one that Holzer intentionally cultivates—the beauty of this built environment is our reward for all the hard, sometimes puzzling, reading that is required of us to really delve into the piece. Lucky for us, we can enter this stream of words again and again, never in the same place twice.
Thumbnail: