Art Camp and Art Study 2021
Art Camp 2021 is going online! In addition to artist-designed project packages and virtual classrooms for registered campers, we are also offering free downloadable 10 Pages projects for ALL kids to enjoy at home.
Registration is available online and space is limited. Registration will be first-come, first-served.
Two weeks before the beginning of the camp, you will receive an email with instructions for participation and supplies a supply list.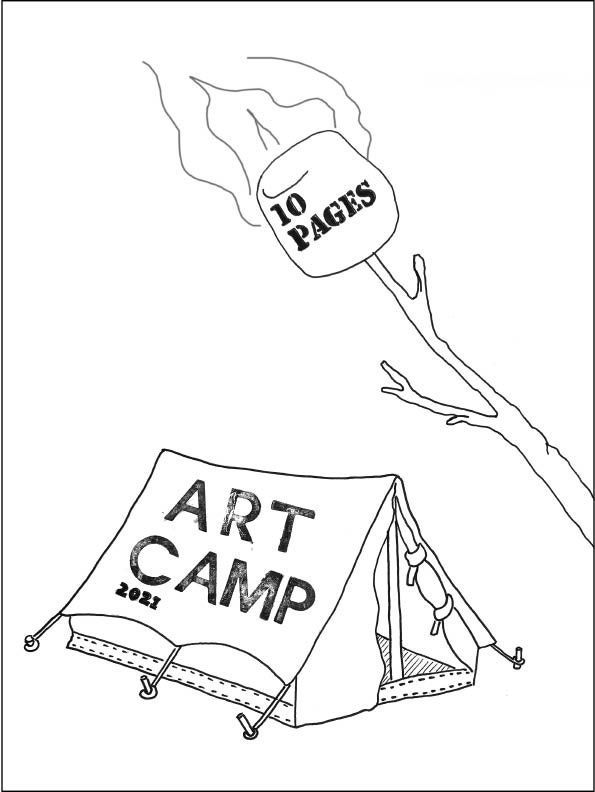 Art Camp: 10 Pages
Ages 4+
Modern educators and education intern designed 10 Art Camp projects that can be done from the comfort of your home. Follow the project plans to create drawings, build sculptures, take photos, and make paintings based off works in the Modern's collection. Learn about ideas and techniques as you experience art from the collection through hands-on activities at your kitchen table. Share your creations with the Modern through #ArtCamp10Pages. 
Registration is not required.
Registration is not required.
A downloadable PDF is available here.

Art Camp at the Modern: From Our Home to Yours
Ages 8-10: June 28-July 2, 10 am-noon, lunch break, 1-2 pm
Ages 11-13: July 12-16, 10 am-noon, lunch break, 1-2 pm
$125 for members and $150 nonmembers
Looking at selections from the Modern's permanent collection

These are camps for kids who love art! Here, young artists can find a home with the Modern's interactive online alternative to our long-running and ever-popular Art Camp at the Modern. This summer's Art Camp at home is a place for young art enthusiasts to gather and get to know each other online, while working with real artists to discover new ideas about specific works of art from the Modern's permanent collection. As if that weren't enough, the whole experience culminates with a virtual exhibition of camper creations.
Virtual classroom space is limited to 20. Registration is required.
*REGISTER HERE*

Art Study at the Modern: From Our Home to Yours
Ages 14-17: July 26-30, 10 am-noon, lunch break, 1-2 pm
$160 for members and $180 nonmembers
Looking at selections from the Modern's permanent collection
Serious teen artists looking for camaraderie and curious about new ways to think about art come together in this week-long interactive online alternative to the Modern's Summer Art Study program. Art Study at home participants work closely with an the on view MODERN BILLINGS artist, Carlos Donjuan and the Sour Grapes Crew to discuss ideas prompted by a variety of investigations including their billboards and the Modern's permanent collection. They will ultimately create work that reflects their personal discoveries throughout this enlightening and invigorating week of learning, sharing, and making. Art Study culminates in a design collaboration with Donjuan and Sour Grapes Crew for a future community engagement program.
Virtual classroom space is limited to 12. Registration is required.
*REGISTER HERE*