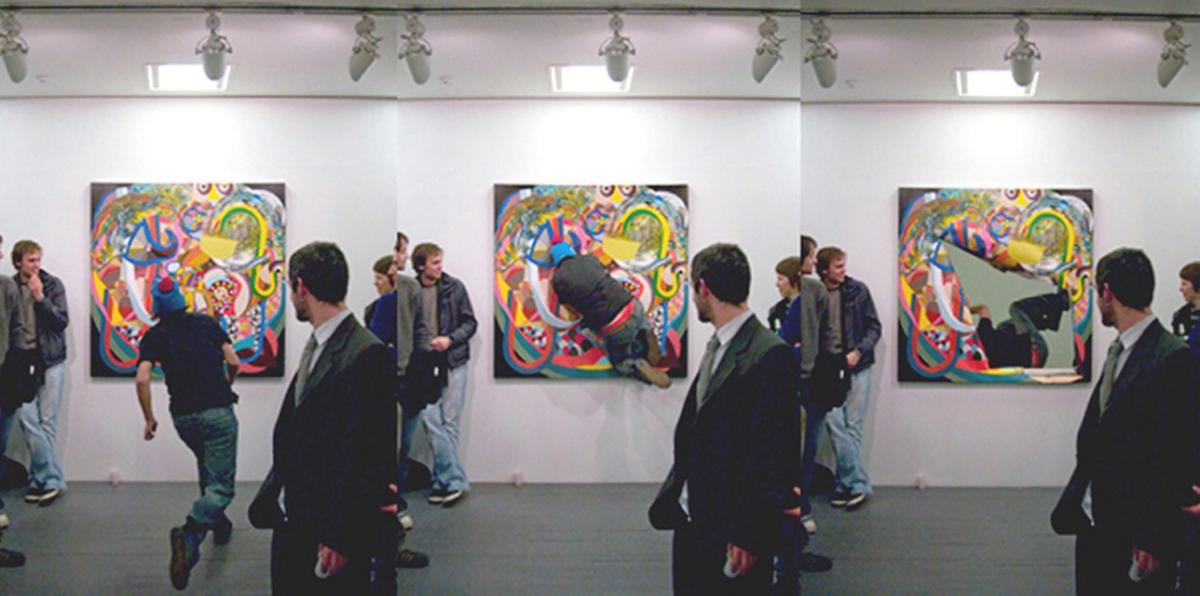 Benjamin Merris, Maximalism: Phase ll, Being There, performance
Merris' sensibility is as organic and fluid as it is rigorous, as filled with wonder as it is informed by a sense of scientific reason, and it consistently navigates between such positions, seeing them not as oppositional, but naturally and intimately connected. Dean Daderko, 2014
Organic, fluid, rigorous, filled with wonder, and informed by scientific reason, all working in concert,—this is such an apt description of Benjamin Merris's art practice and general approach to life. I can hardly hope to improve on the above quote by CAMH curator Dean Daderko in this blog post, but in revisiting Merris's lecture on the video podcast linked below I realized that I need to examine my own response to the artist's instinctively-paced presentation of a path through his work, influences, curiosities, realizations, and convictions.
Merris lays the groundwork for his lecture by opening with an explanation of his life/career following "consistent migratory patterns," as he "moves on" about every six years. As we, the audience, stare at a sequence of images showing the artist running toward and ultimately diving through one of his paintings for a piece titled Being There, at an exhibition opening in Glasgow, Merris declares his long and pivotal relationship with abstraction. All the implications of "being there" in this piece/performance and the migratory nature of Merris's practice serve to inform the trajectory laid out in the rest of the presentation.
So what is it about this particular lecture that has it ranked as one of favorites in such a long-running program as Tuesday Evenings? It might be the timing of such genuineness in a moment that seems to lack authenticity, and self-awareness as opposed to self-consciousness and self-promotion. There is also my attraction to Merris's insatiable curiosity and pursuit of experience and knowledge. As much as I appreciate his commitment to abstract painting, I am drawn to the nature of his investigation and what each phase of exploration reveals as he moves along a trail he seems to instinctively follow like bread crumbs, with full-sensory attentiveness to the possibilities of every accumulating moment. Merris's approach to artmaking is somewhat romantic, maybe even old–fashioned for a relatively young artist, but its earnestness touches a longing for something visceral and real. It doesn't seem calculated according to trends or the market. It is searching for internal realization as opposed to art world revelations. Of course the gamble is whether his journey and findings are of use to others and therefore sustainable for the endurance of a career. It seems to be a gamble Merris is willing to take, and I wonder where it will take him.