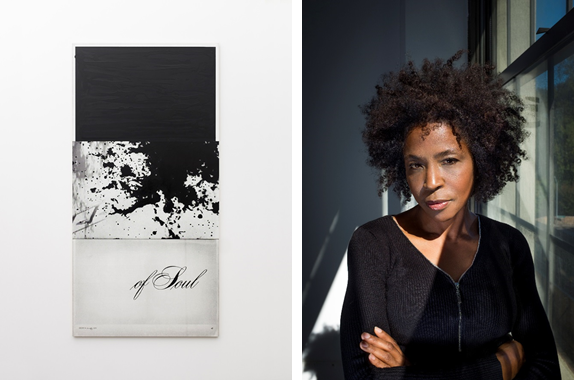 I approached painting initially from a place of intimidation. I started my undergraduate studies as a painter, as perhaps all foundation studio students do, and yet when I proposed a series of paintings for the first time, for the Fifty-Sixth Venice Biennale in 2015, the response from the curators wasn't immediately "Oh, definitely!" I had been thinking for a couple of years about how I might begin to explore this different way of making work. I could have picked my timing to start showing them in a less intensely scrutinized exhibit, but then again, I like the challenge of being uncomfortable, inquisitive, and a little nervous, but not fearful. Lorna Simpson, Artforum 11.26.16 www.artforum.com/words/id=64979
Lorna Simpson began her lecture at the Modern, after a gracious thank you for having me, with the disclaimer that she was a little hesitant to talk about her new work. This understandable hesitation led her to delve into much of the work that has come to represent her thirty-year career, thereby laying the groundwork for the soulful and particularly pertinent paintings that are now hanging in the Modern's second-floor galleries for FOCUS: Lorna Simpson.
Simpson, besides being an extraordinary artist, is a very grounded and thoughtful individual who exudes a realness that quickly establishes ease in those listening to her ideas and experiencing her work. This lecture was well received, with a great deal of enthusiastic feedback in the days that followed. Unfortunately, the holidays intruded with my immediately writing this post. But I have to say, it has been nice to ruminate and consider that feedback before sitting down to wrap up what I experienced and set up the podcast that follows.
In revisiting the lecture I am reminded of how much I needed to see and consider the workings of an artist I have long admired as affirmation that art does make a difference, it does offer gravity in turbulent times. It was wonderful to watch some of my favorite film works, such as Easy to Remember, Corridor, and Cloudscape, and to see Simpson's amazing photographs of wigs on felt, as well as photographs and texts from the Public Sex series, with the comfort of the artist there to set it up without giving it away. Simpson was generous in sharing her story and how she came to or sought out series and individual works, but she never really told us what they are about. Thankfully, she has left that up to us.
In that vein, Simpson closed the lecture as she had begun with, "See, I can't talk about it, so I'm just going to show it, because it is too new," as she projected intriguing work from her most recent gallery exhibition at Salon 94 as well as a preview of works in FOCUS: Lorna Simpson. I took her closing gesture as an invitation allow myself considerable time in gallery seven on the second floor of the Modern to mindfully find my way through Simpson's most recent work.
View Lorna Simpson's Tuesday Evenings lecture.
Image credit: Lorna Simpson, Three Part Soul, 2016, ink and screenprint on claybord; Portrait of the artist © James Wang