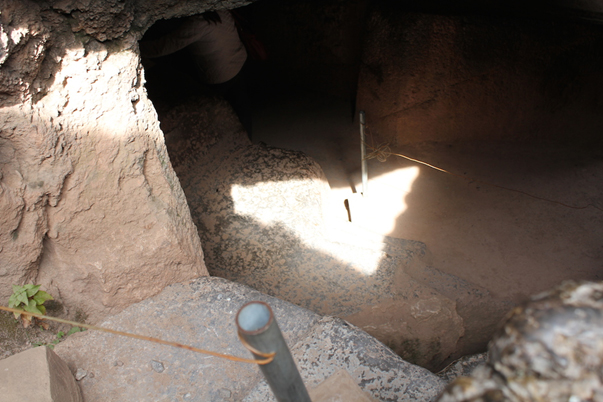 Martha Tuttle, photograph of Chaco Canyon, New Mexico
Perhaps what I have to offer is a language of care and attention. Martha Tuttle, Tuesday Evenings at the Modern, April 19, 2016
Martha Tuttle closed the spring 2016 Tuesday Evenings season in a transcendental manner as she discussed questions, influences, and her connection to the world. She humbly opened her presentation by speculating about what she might have to offer in the context of Tuesday Evenings:
So I was just thinking, what is it that I have to offer? And I think that is that I can tell you what it's like to feel like I'm beginning. And that I am in this moment in which I'm proposing a work and starting to shape a cosmology, and I don't know yet where that will go or whether it will be the one I will have for the rest of my life as an artist. But I think that beginning moment is kind of special too. At the very least, I think hard on all of the stuff I don't know.
She then divided her time between reading a piece she wrote for this occasion, showing images from her recent solo exhibition at Tilton Gallery in New York, and discussing artists and art that have shaped her and her work.
Tuttle's reading opened with, "In full disclosure, I have never really been able to understand what happened during the Big Bang." Then she broke to say, "I should also explain that this talk comes out of my questions around material, matter, and process . . . my work." Matter and connection seem to be Tuttle's driving forces or her guides as she relays lines such as "Holding a grain of sand in our hand, we are the universe thinking about itself, or we are walking, talking minerals." Her incredibly thoughtful and brilliant text simultaneously lulled and held the audience at full attention as we battled between attaching ourselves to every precious idea and letting it flow over us.
Honestly there is so much to relay that this post feels inadequate. My advice is to find your own connection with this special presentation by watching the video podcast or listening to the audio as many times as it takes. And it might take a few. But it is worth it.