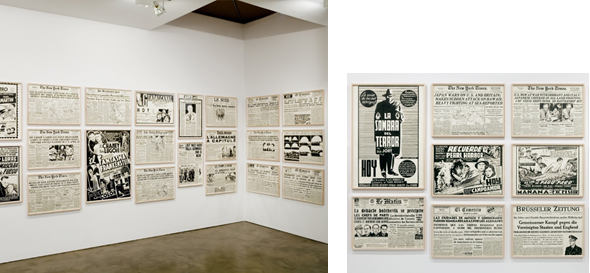 Fernando Bryce, El Mundo en Llamas, 2010–11, installation details: Alexander and Bonin. Photo: Joerg Lohse
I'm interested in understanding images as political fact. . . . These media images are both product and construct. When I see a picture that fascinates me, I'm always interested in its function. Fernando Bryce, in "The Artist and the Propaganda Machine," ArtMag, by Oliver Koerner von Gustorf
I think through images. Fernando Bryce, Tuesday Evenings at the Modern, April 5, 2016
For his Tuesday Evenings lecture Fernando Bryce explained his practice of drawing his way through world history by tracing media clips, documents, and advertising as cultural markers of the modern age. Time and location are parameters Bryce gives each series as he selects materials from libraries, university and museum collections, and occasionally the internet. His most recent exhibition, at Alexander and Bonin in New York, focused on art-related perspectives in the 1940s and 1950s, following the end of World War II and the beginning of the Cold War, with three major works, The Book of Needs, Arte Nuevo, and ARTnews 1944–1947, that triangulate materials from Paris, New York, and Buenos Aires. An earlier series, El Mundo en Llamas ("The World in Flames"), took on the actual conditions and conflicts during World War II by juxtaposing front pages of major newspapers from across Europe and the United States with advertisements for Hollywood films as found in Peruvian media, reframing the time and events according to his selections and presentation.
Bryce described his existentialist project Atlas Peru, 500 drawings that set him on his current path. He learned as he traced and, through his selection of materials, reconstructed the history of Peru from the 1930s forward for a half century. Seeing himself as a para-historian reshaping historical memory, "archival memory," Bryce explained that his methodical, stylized ink drawings are a way to filter and homogenize the otherwise loaded original images and texts, with their various points of view. But, as with all historians, he admits to a certain "position" in the work, calling it "the essence, the heart of the project."
There is so much more in this lecture concerning what Bryce refers to as "mimetic analysis," the effect of hand drawing mechanically produced images and texts, speculation through reproduction, the evocative power of images, the liberation of his subjects from the confines of the institutions and times in which they were produced, and . . . well, listen and watch for yourself.