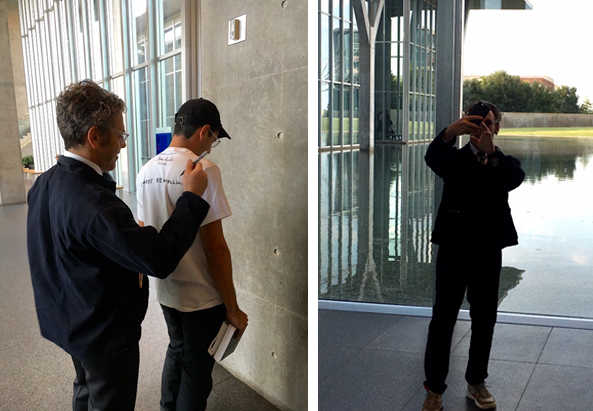 Tom Sachs at the Modern Art Museum of Fort Worth
Though we experiment, explore and attempt to make a profit, our most valuable gain is knowledge.                                     
A Space Program, created by Tom Sachs, directed by Van Neistat, Zeitgeist Films
It was great to have Tom Sachs back for Tuesday Evenings. After his lecture in spring 2015, which was so enlightening it took me to another place and changed the way I see things, Sachs agreed to return to show his newly released feature-length film, A Space Program, which was debuting at the time at SXSW in Austin. This film grew out of the ambitious installation A Space Program: Mars at the Park Avenue Armory in 2012 and is, for the most part, a documentation of events in conjunction with that exhibition.
Like all of Sachs's work, A Space Program is a handmade bricolage endeavor. As is boldly stated in the film, "It is by having hands that man is the most intelligent animal. Our space program is handmade." And as Sachs explained in his past Tuesday Evenings lecture, there is method in showcasing the handmade, stating that fingerprints are the artist's advantage over industry.
The handmade aspect of Sachs's work significantly contributes to its very human disposition, especially with this film. In A Space Program there are numerous nods to the humanness in even our most noble efforts. There is such an earnestness in cobbling together every element necessary to go into space, and to land on and search for life on Mars. There is honor in putting the first women on the surface of Mars, a conviction reinforced by A Space Program's tribute to the 16th-century Shaker leader Ann Lee, for whom they named the circular saw with which the female astronauts cut a hole in that very surface. However, humans, even on Mars, are complicated, which contributes to a sweet, beautifully pathetic, and profound bit on the feedback system of the heart and brain. Then there is what I understand as the arrogant and naïve contribution of the "funky boombox to improve the Martian environment," played against the mission of bringing the complex ritual of the Tea Ceremony (and its accompanying articles, including a Yoda Pez dispenser) to the red planet as a means of soothing tensions among the crew.
All of that said, what seems simple or finite isn't. There is so much to be read in every gesture of this film. This blog post could go on for days. What is certain is that Sachs's work bets on a basic human need to suspend disbelief and accept the possibilities in what can be imagined. Given the enthusiasm and investment of the Tuesday Evenings audience and the artist's ever-faithful and growing following, it seems to be a good bet.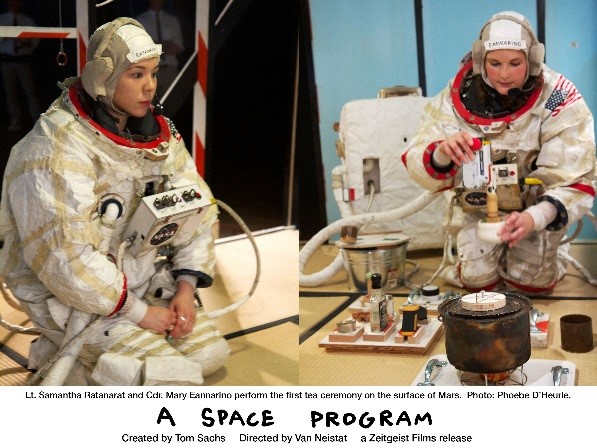 Since this presentation included the screening of a film, there is no podcast. However, you can find the trailer and more about the film at https://zeitgeistfilms.com/film/aspaceprogram.
For more on Tom Sachs and his studio:
http://www.tomsachs.org/
http://tenbullets.com/