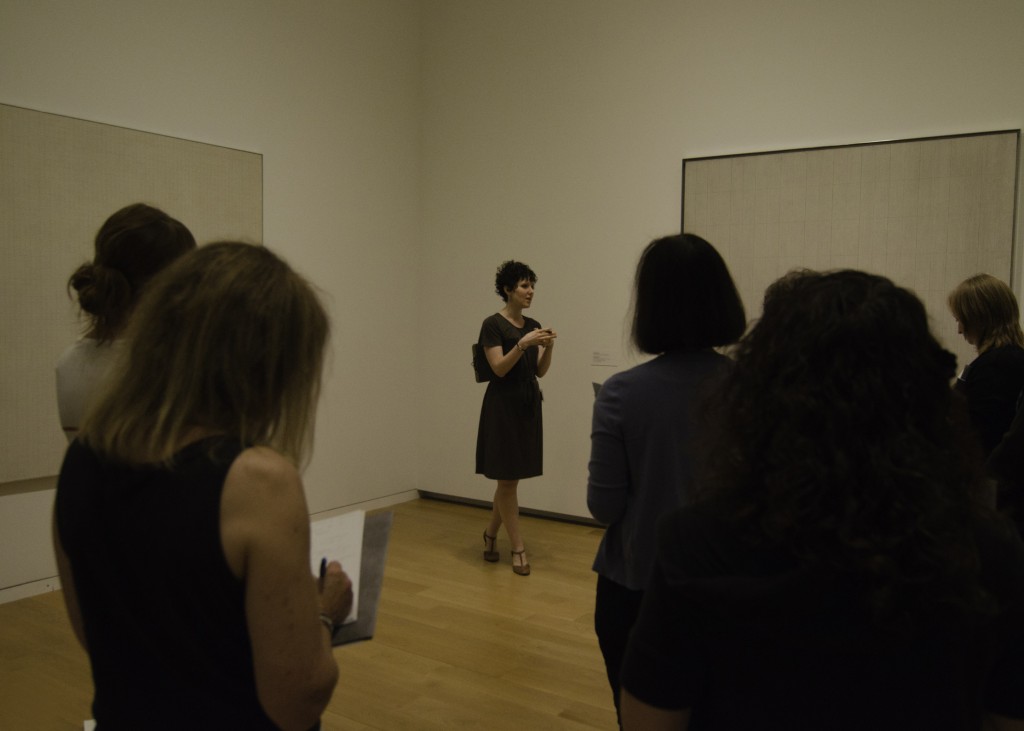 Is it not the nature of creativity to be boundless and open-ended, free of restraint? Several of this summer's educator workshops focused on the work of artists who decided on a clear set of limitations in which to work. Through intense looking in the galleries and considered discussion of a range of artworks, participants came to understand that it is precisely a narrowing of options that allows many artists to communicate what is essential in their work. Our investigation revealed that a complex set of ideas are sometimes most successfully conveyed when couched within the surety of creative restrictions.
The artists whose work we spent time with—Agnes Martin, Donald Judd, Tony Feher, and Carl Andre—placed self-imposed boundaries on their working method and reduced their compositions to simple forms. Repetition of these forms served to clarify function. Through close attention to a carefully selected set of materials, each artist highlights the power of their preferred materials. These artists chose to leave the materials unembellished, adopting a set of rules and a clear formal strategy. Martin, for example, knew what she would paint next: a grid. Judd had a distinctive working method: to have fabricators build a series of identical steel and Plexiglas boxes. Feher does not search for subject matter or materials: use ordinary items that are stripped of their original signifying elements and give them new life. Andre, too, need not spend time looking for materials or subject matter: arrange "elements" (squares and strips of metal and blocks of wood) in a manner that follows what these materials want to do; wood blocks stack, strips of metal lay flat. By eliminating choices such as subject matter and narrative —and, often, the juxtaposition of shapes—each artist is freed from being driven by such things. Clarity of form translates to clarity of concept.
Through study of, and conversation on, works such as Martin's Leaf (1965), Andre's Slit (1981), Feher's Just So (2002), and Judd's Untitled (1967), many participating teachers felt the conceptual threads running through these works. Where perplexity and doubt cropped up, a return to fundamentals proved helpful. We talked about the notion that when confronted with work that is simple and reductive in nature, it is the ideas that come to the fore of the conversation. What concepts are driving the artist to make this work? How does it make me feel; how do I relate to it? For those teachers who began their time at the Modern unfamiliar with minimalist and minimal-looking works of art, these questions began to receive answers.