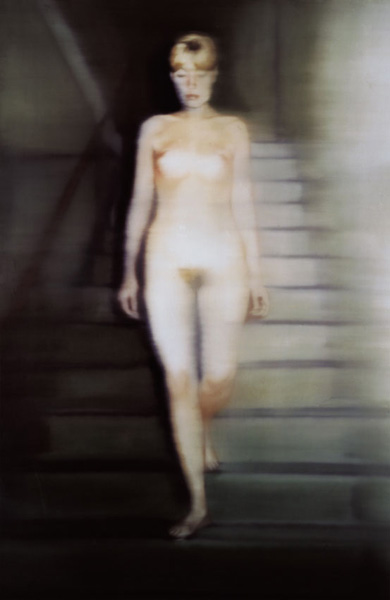 There are a few works on view in the first-floor galleries that always catch my eye—Robert Motherwell's Stephen's Iron Crown (1981), Richard Serra's Right Angle Corner Prop with Pole (1969), Martin Puryear's Ladder for Booker T. Washington (1996), to name a few. Each work makes a different impression. Serra's lead piece, for example, brings a sense of self-awareness of my physical presence in this world. Puryear's ladder makes me appreciate the beauty in simplicity. But it is Gerhard Richter's Ema (Nude Descending a Staircase) (1992) that always stops me.
When entering the galleries, I see Ema out of the corner of my eye. And, for that instant, the work is emotive, personal, and even intimate. Yet, when standing in front of the photograph it becomes flat and distant. Something about the image triggers in my mind the idea of art's ability to draw one into the work, the way a Mark Rothko painting or a good Jackson Pollock drip painting does. But Richter's image purposefully fails to do so. It is the process in which he created this image that disallows that most basic connection.
Richter has stated that, "Photography had to be more relevant to me than art history: it was an image of my, our, present-day reality. And I did not take it as a substitute for reality but as a crutch to help me get to reality."[i]
To create Ema, Richter took a slightly blurred Polaroid of his then wife, Ema; painted the image captured in the photograph; and then photographed the painting. Why go through the process of creating a painting only to photograph it? Why not just enlarge the initial photograph? There must be meaning in process. The final piece is a photograph, just as the initial image is, but a photograph that looks like a painting. The inherent qualities of photography allow it to take on the characteristics of its subject. Brushstrokes are visible. The colors of her flesh, hair, and stairs are distinguishable. There is depth, in the sense that perspective is depicted. But, nevertheless, the image lacks that sense of aura that Walter Benjamin discusses in his essay "The Work of Art in the Mechanical Age of Reproduction," much like that of Sherrie Levine's After Walker Evans photographs.
I cannot imagine that the painting, in the collection of Museum Ludwig in Cologne, Germany, from which this photograph was taken, embodies these same qualities. Rather, I must believe that the painting is what my mind (and eye) wants this image to be—intimate and full of presence. Did re-creating the original photograph through painting and then photographing the painting make the image of his nude wife more "real," as Richter suggests? It is certainly plausible that this process would imbue a stronger connection to the original image than the photograph, perhaps making it more real, but arguably only for the artist. It does, indeed, bring a stronger sense of reality to what it means to take a photograph. But perhaps the layering of distance instilled by the process in which this piece was created is intended to accentuate her waning existence. As Michael Auping notes in the Modern's 110 catalogue, "there is a powerful fragility to Ema's presence."[ii]
---
[i] Gerhard Richter, The Daily Practice of Painting: Writings and Interviews 1962–1993, ed. Hans-Ulrich Obrist, trans. David Britt (London: Thames & Hudson in association with Anthony d'Offay Gallery, 1995): 66.
[ii] Michael Auping, "Gerhard Richter," in Modern Art Museum of Fort Worth 110 (Fort Worth and London: Modern Art Museum of Fort Worth in association with Third Millennium Publishing Limited, 2002): 144.