This week focuses on the artists Teresa Margolles and Artemio, included in the upcoming exhibition México Inside Out: Themes in Art Since 1990.
Teresa Margolles is a Mexican artist who mainly explores the mediums of performance art, photography, and sculpture. She was born in Culiacán, Sinaloa, Mexico, in 1963. Her work centers on the idea and exploration of death. After graduating with a diploma in forensic medicine in the late 1990s and working in a morgue, she has inserted the notion of death and its role in Mexico's economy and society into the majority of her artwork. Margolles's piece Muro Baleado (Culiacán) from 2009 illustrates her ongoing examination of death through a thirteen-foot-long, seven-foot-high cinder block wall riddled with bullet holes from a recent shootout between Mexican police and a drug gang. Two police officers died in the shooting. In her essay "Outside In" from the catalogue accompanying the exhibition, curator Andrea Karnes states that "this site is a monument to the (often unclaimed) murder victims in Mexico, and it brings a physical piece of the outside world into the museum."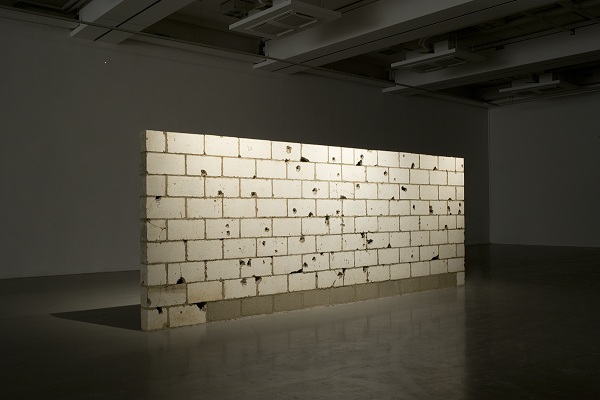 Teresa Margolles
Muro Baleado/Shot Wall (Culiacán), 2009
115 concrete blocks with bullet holes
83 7/8 x 156 x 6 inches (213 x 396 x 15.2 cm)
Colección Museo Tamayo, INBA/CONACULTA
Photograph by Nils Klinger
Hear Margolles discuss Muro Baleado (Culiacán) and other pieces from her solo exhibition at the Museion Bolzano in 2011 in this video interview. https://www.youtube.com/watch?v=_eFoTbRgPKU
Artemio is a Mexican artist born in Mexico City in 1976. Artemio's work calls current events of war and violence into question through often humorous and cynical alterations of popular culture. His experimental multimedia approach presents contemporary issues in Mexican society in a whole new light. In his Untitled (Portrait of 450 Murdered Women in Ciudad Juárez), 2009, Artemio creates a monument in honor of the 450 missing female factory workers known collectively as maquiladoras. The artist uses earth from the region to represent the average weight of the missing maquiladoras. Curator Andrea Karnes points out that through the piece, the artist suggests "the speculative and still-unsolved reasons behind the murders, and the fact that they are no longer a main topic of discussion due to being overshadowed by the drug wars." Karnes continues to explain that Untitled "symbolizes the complications of the maquiladoras and the lives of the women who have been lost or buried under layers of the desert and abstract, political rhetoric" ("Outside In").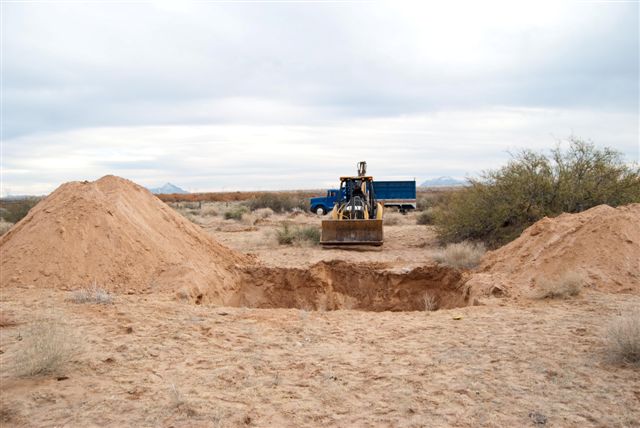 Crosses were erected where the corpses of eight women were found in 1996 in Juárez, Mexico.
In a panel discussion moderated by Arden Decker in the catalogue, Decker presses Artemio and artists Yoshua Okón and Joaquin Segura about their subject matter and the capitalization by some Mexican artists on the issue of violence and the drug wars. Artemio responds by saying, "It's because of politics being fashionable in the art world at this time. It's fashionable now to talk about the narco violence. Making something about Mexico or Cuba or wherever, this idea is useless at this point. Everything is global now. I mean, I am part of these 'guacamole shows' all the time and I enjoy it. I really do. When I was living [in New York], I was always saying, 'Hi, I'm Artemio. I am a Mexican artist and, yes, I am starving.' But, then again, I like to be completely impolite in my life and in my work."
Look for the full-length interview featured in the exhibition catalogue that accompanies the Modern's exhibition México Inside Out: Themes in Art Since 1990.