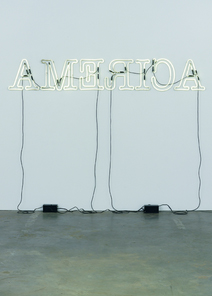 Glenn Ligon: AMERICA presents a chorus of literary and cultural sources, including James Baldwin, Jean Genet, Zora Neale Hurston, Gertrude Stein, Richard Dyer, Jesse Jackson, Richard Pryor, friends of the artist, acquaintances, and strangers. Each famous, infamous, or generally unknown voice is made visual in works such as Stranger #20, Untitled (I Am Turning Into A Specter Before Your Very Eyes and I'm Going To Haunt You), Untitled (I Feel Most Colored When I Am Thrown Against a Sharp White Background), Untitled (I Am Not Tragically Colored), Warm Broad Glow, Untitled ( I Am Somebody), Cocaine (Pimps), and Notes on the Margin of the Black Book. "Given its preoccupation with literary narratives that illuminate different agendas of disclosure, Ligon's work is perhaps best addressed by reflecting upon it as a series of readerly, writerly, and speakerly responses to acts of reading, writing, and speaking a subject into presence…."** There is more to this quote from Okwui Enwezor's catalogue essay but, for my purposes, in relation to my experiences thus far with the work in Glenn Ligon: AMERICA, Enzwezor speaks to questions that the exhibition engendered for me as early as the first gallery: What does it mean to appropriate language from various sources and present it as art? How does reading differ from looking and looking from hearing and so forth? Whose voice is in my head as I read, listen to, and reflect on Ligon's work? Throughout the run of the exhibition I will focus on specific pieces with these questions in mind while considering the various voices of Glenn Ligon: AMERICA.
________________________________
** Okwui Enwezor, "Text, Subtest, Intertext: Painting, Language, and Signifying in the Work of Glenn Ligon" in Glenn Ligon: America, ed. Scott Rothkopf (New York: Whitney Museum of American Art, 2011), 54.