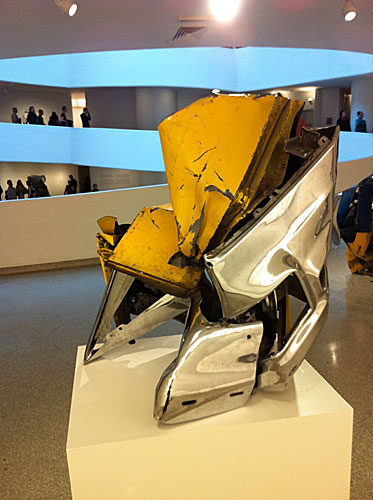 While visiting the Solomon R. Guggenheim Museum on a recent trip to New York, I came across the Modern's Scull's Angel (1974), a work by the artist John Chamberlain (1927–2011), included in the Guggenheim's retrospective John Chamberlain: Choices.
It is always intriguing to see a work from the permanent collection recontextualized in a different space, as part of a different group of works. It often changes my perspective of the object in an unexpected way, and that experience lingers even after the object returns to the Modern's galleries.
In the Guggenheim exhibition, Scull's Angel was surrounded by three white walls, in relative isolation. The only visual interference was from the flood of people wandering up and down Frank Lloyd Wright's spiral ramp; but even then, that interference was only present from a certain vantage point. The sculpture's pedestal at the Guggenheim was higher than the one it typically sits upon at the Modern. Elements of the piece that I was accustomed to seeing at a lower height—scuff marks and the orange turn signal, for example— were suddenly set at eye level. Walking around it, each shift in my perspective altered the work's shape, and my progress around the piece turned it into a slowly morphing profile of twisted steel.
It was also fascinating to see Scull's Angel surrounded by other Chamberlains. My acquaintance with the piece actually proved to be a good jumping-off point for observing the rest of the exhibition. After winding my way through the retrospective, the evolution of Chamberlain's work revealed itself: Scull Angel's relatively modest monochrome yellow fender gave way to a variety of works that were much larger, bursting with color, or simply experiments with completely different materials.
Overall, my trip through the exhibition with Scull's Angel as a primary point of reference allowed me to view the piece from a fresh perspective. As I left the Guggenheim, I was reminded of how Chamberlain described his artistic process: "One day something—some one thing—pops out at you, and you pick it up, and you take it over, and you put it somewhere else, and it fits, it's just the right thing at the right moment."1
That afternoon, for me, Scull's Angel was the perfect fit.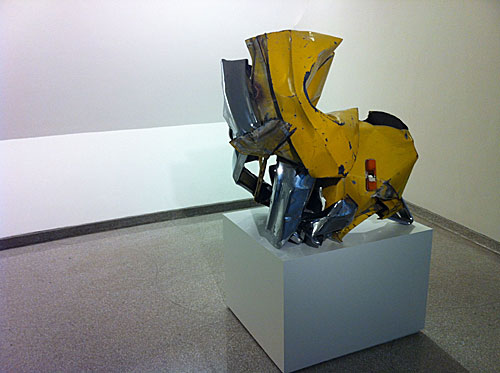 1 Quote from the Guggenheim's John Chamberlain: Choices website