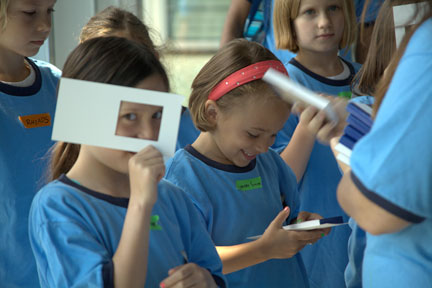 The six- to eight-year-old art campers were extraordinarily productive last week. They made an abundance of work during their time-constrained camp days. This kind of productivity would be the envy of any working artist!
The campers made some great new discoveries in the Modern's permanent collection. Artist instructor Harmony Padgett had the children enthralled with Ged Quinn's paintings in the Focus galleries. In the studio, campers used their own myths to create interruptions in classic landscape paintings. John Frost sat the campers in front of the Ellsworth Kelly and encouraged them to keep a small sketch book to build a drawing collection of simple shapes. They also spent time looking at works by Jess and Joseph Havel, and made a fantastic mess with plaster! Campers emulated Martin Puryear, building objects with twine, branches, and twigs, and experimenting with shadows.
Art campers also looked at the work of Robert Rauschenberg, Jackie Windsor, Andy Warhol, Roxy Paine, and many more. Campers left the end-of-the-week reception with bags full of artworks of their own creation. With a few more camps to go, it's looking like a great summer for art exploration at the Modern.