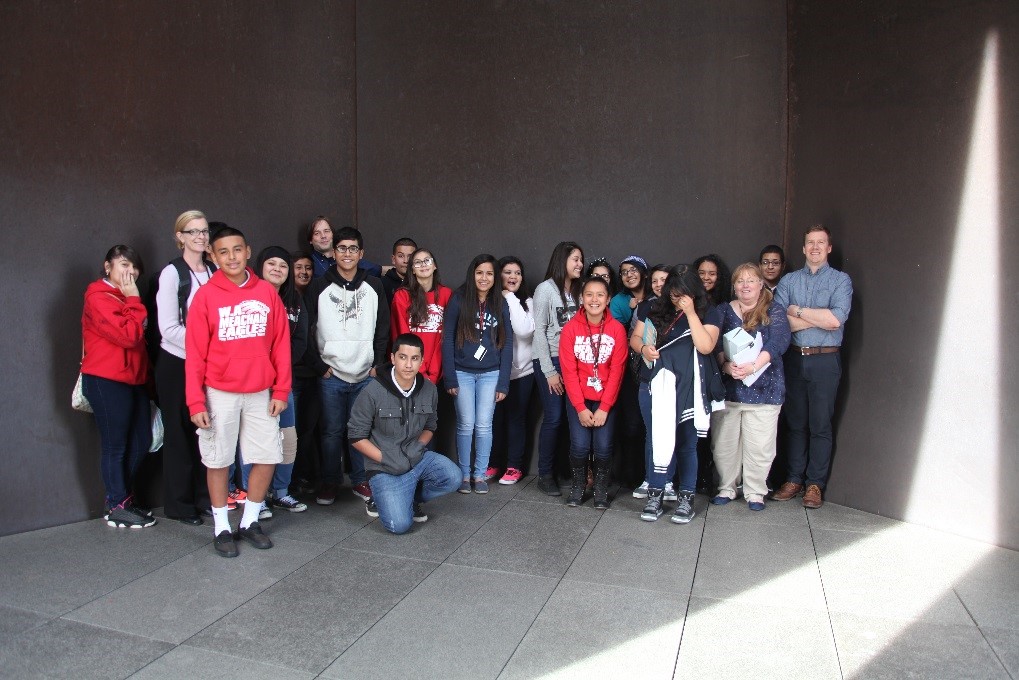 The Modern Art Museum of Fort Worth recently welcomed 20 eighth-grade students from W.A. Meacham Middle School as part of Writing to Look, one of our Repeat Visit Programs. Each year, six middle schools from Fort Worth and surrounding cities participate in Writing to Look, a program that invites 20 exceptional art students at a time to the museum multiple times throughout the school year to spend a day in our galleries exploring the exhibitions and responding to the works of art. Each program is led by a local artist or art historian with a connection to the exhibition and general knowledge and expertise that offers insight into the art on view. This month, Writing to Look was led by Dallas-based artist Luke Harnden.
Luke is a member of the artist collective Art Beef, and he co-directs the Fair Park exhibition space Beefhaus in Dallas. Luke has recently exhibited his work at Kirk Hopper Fine Art and Barry Whistler Gallery. His background in street art and mural painting lent itself to an engaging interpretation of the current exhibition Urban Theater: New York Art in the 1980s. Luke worked closely with the education staff at the Modern to create an activity packet that the students completed during their visit. These packets were designed to encourage deep observation and critical thinking through creative writing exercises.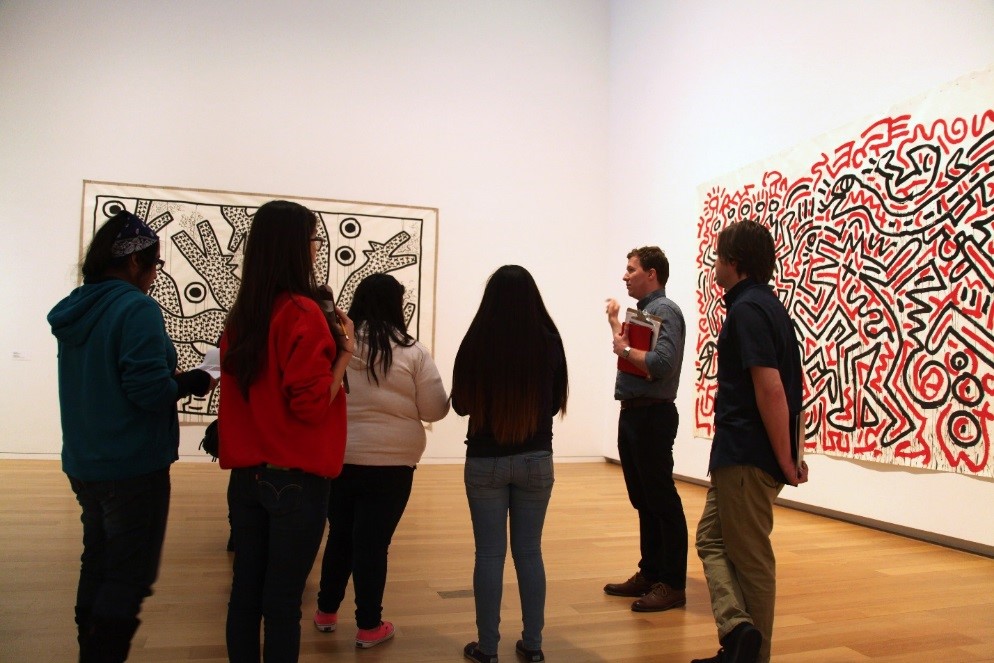 The first stop in the exhibition was a pair of works by Keith Haring: Red, 1982–84, and Untitled, 1982. Harnden spoke in detail about Haring's life and career while elucidating on his iconic visual language. A group discussion followed as students talked about the possible meaning of the works, the idea of narratives in visual art, and the artist's use of symbols.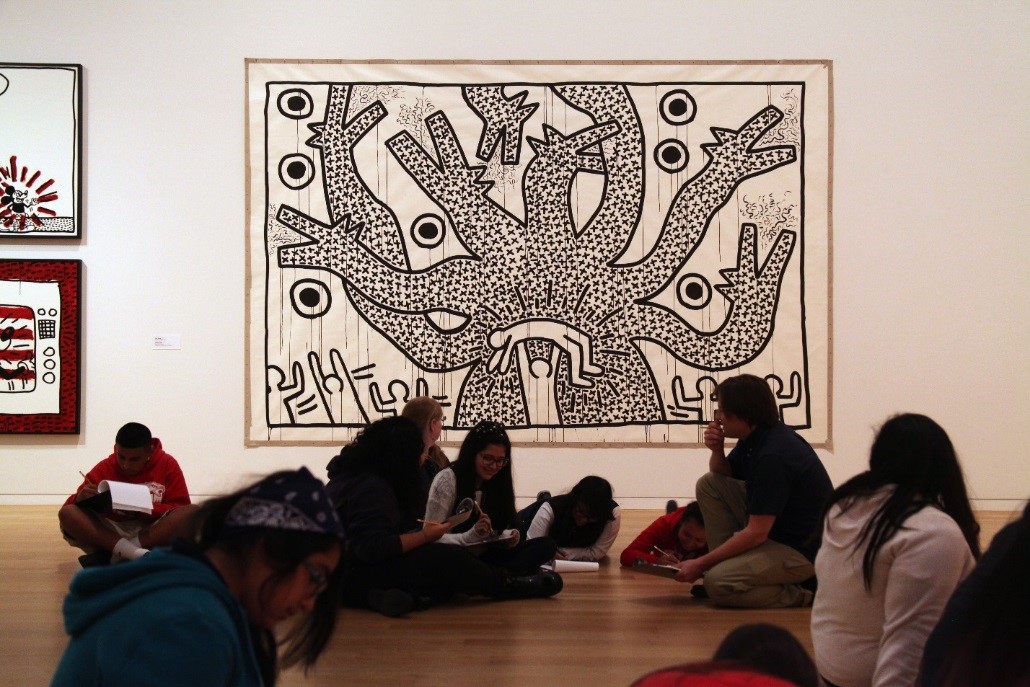 The students were asked to compare Haring's two painting, first by listing descriptive words that came to mind, then incorporating those words into a narrative that connected the two works of art into a singular story of their design.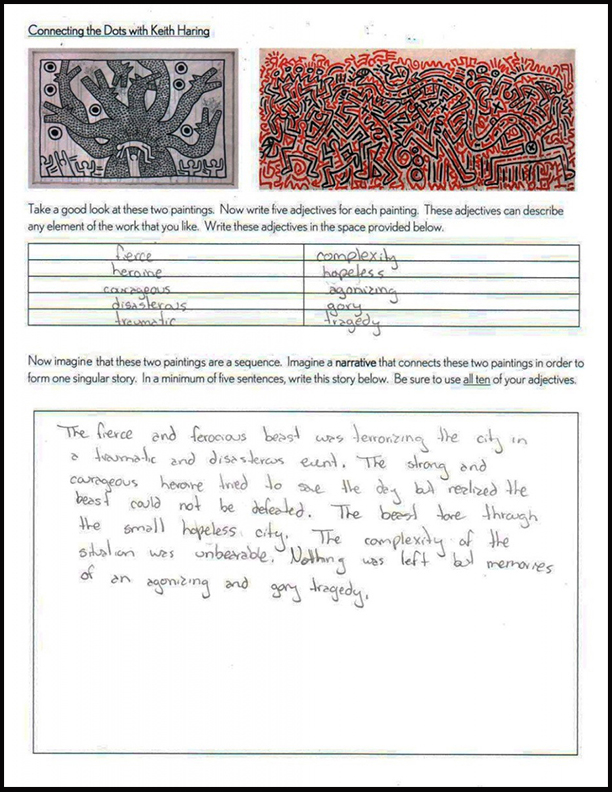 As a final exercise, the students wrote and sketched a response to the narrative they created based off Haring's works.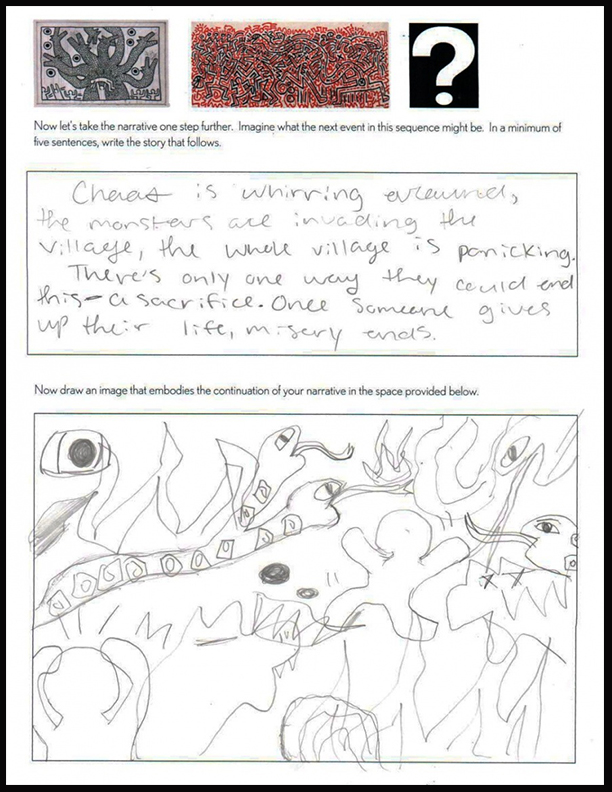 Asking the students to investigate the works on multiple levels and to become creatively involved with the art encouraged them to engage in a deeper, more meaningful way that celebrates their own personal talents and ideas. We took a moment to share our stories, and then it was off to the next stop, a series of works called Art Magazine Ads, 1988-89, created by Jeff Koons. In these self-portraits, originally created for placement in major art magazines, Koons places himself under various guises into four vastly different, elaborately staged scenes.
We asked the students to spend time with each poster and examine what each advertisement was "selling" by analyzing the settings, props, and stereotypes Koons performs.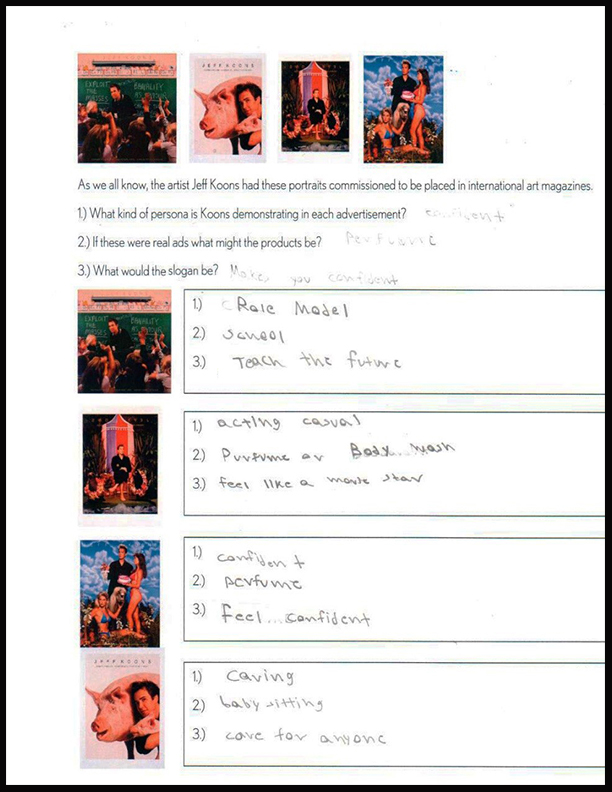 After everyone carefully studied these works, we had a group discussion about what the product of these "ads" could be. The students concluded that Koons's product is actually himself. He was using the language of advertising to promote himself as a media-savvy artist in a boisterous, tongue-in-cheek manner.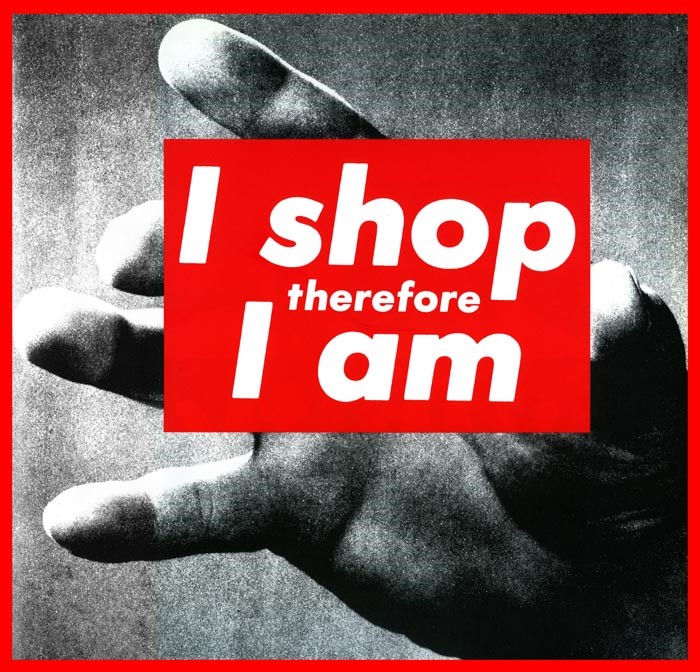 Across the gallery from the Koons images hangs Barbara Kruger's seminal 1987 work Untitled (I shop therefore I Am). This work sparked a conversation about advertisements, consumerism, and social critique. Studying the color, composition, size, and symbolism within the works by Koons and Kruger helped the students understand how commercial advertising conveys meaning and how artists can appropriate these techniques in their own artmaking.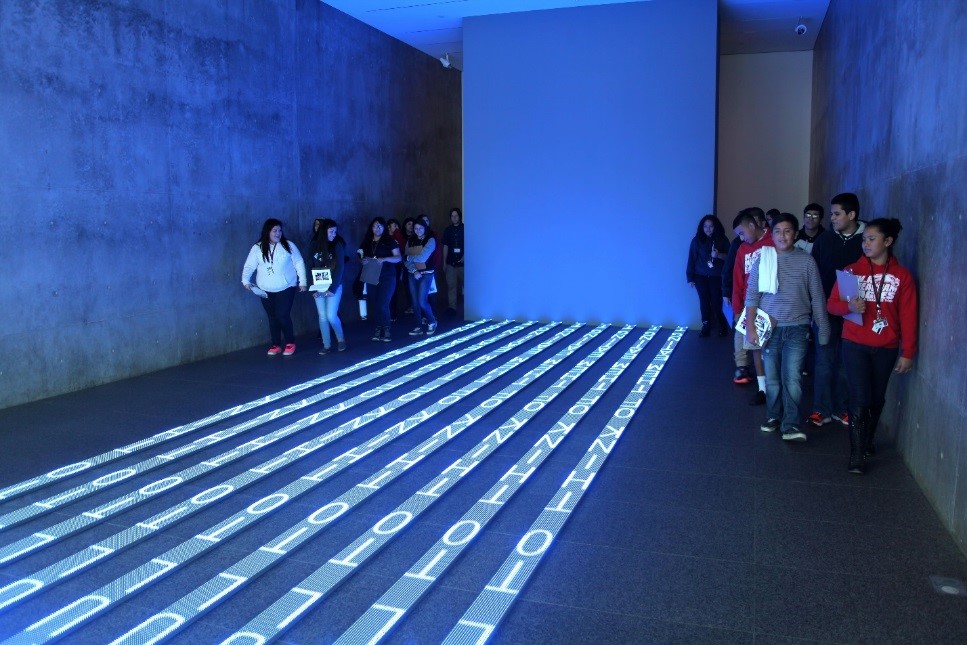 Next the students explored the recently acquired site-specific piece Kind of Blue, 2012, by conceptual artist Jenny Holzer. Like Kruger, Holzer utilizes language in her work. Students were encouraged to spend some time with Kind of Blue before attempting to unpack its meaning.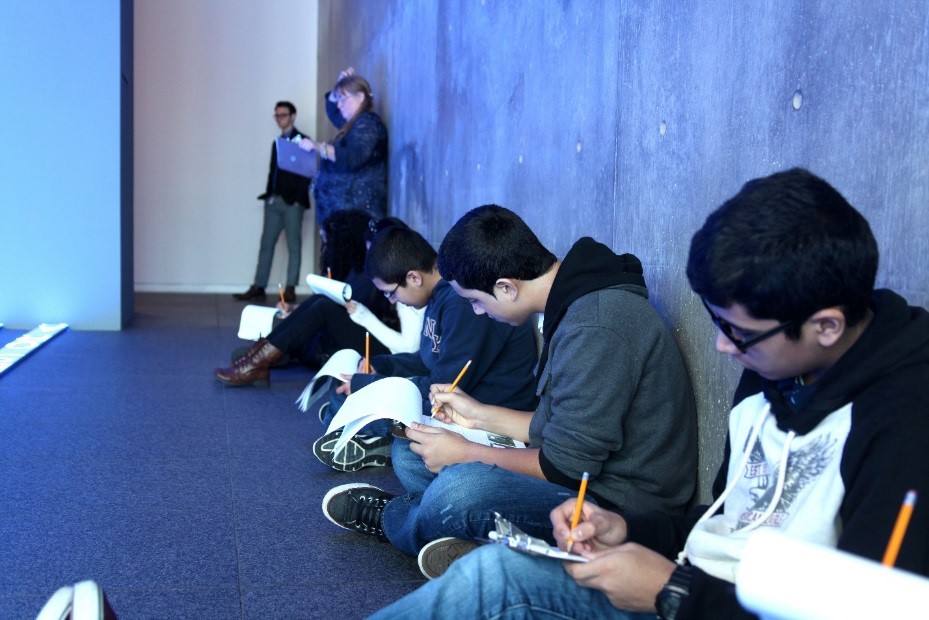 After meditating over the work, students were asked to tease out individual phrases of interest from the ever-flowing river of language, write them down, and then alter them to create their own "truisms," versions of the pithy statements Holzer is known for presenting in her work.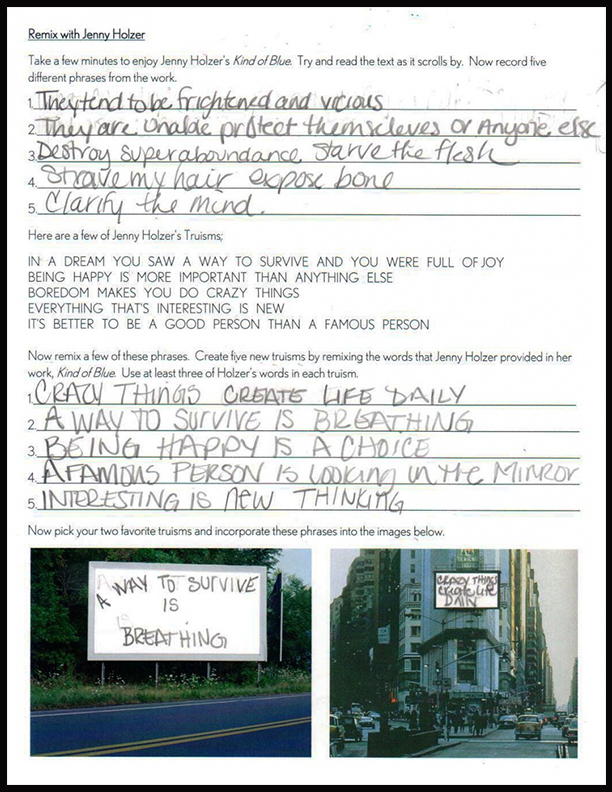 We know that Holzer did not only create works for museum settings, but also for public spaces, such as those in the images below.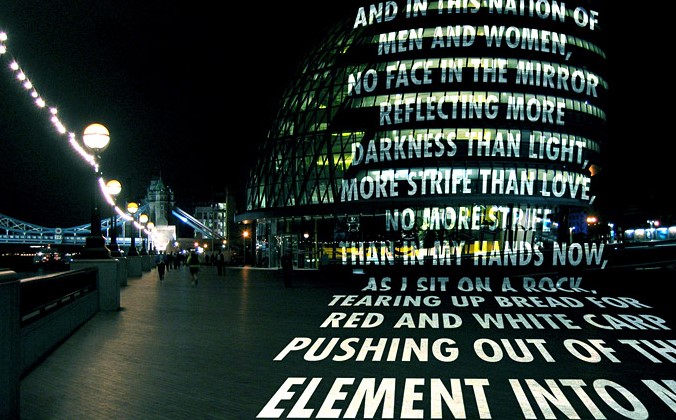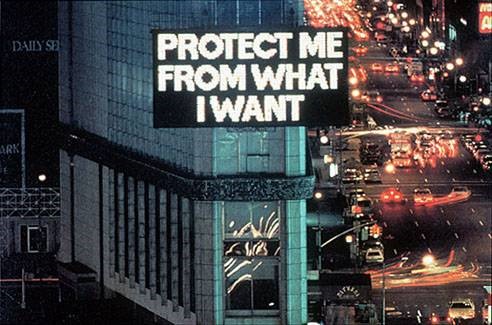 Luke was interested in helping the students see how the context or setting of a work of art can affect meaning. Though Kind of Blue and various public projects might disseminate the same content, the site can vastly change the meaning.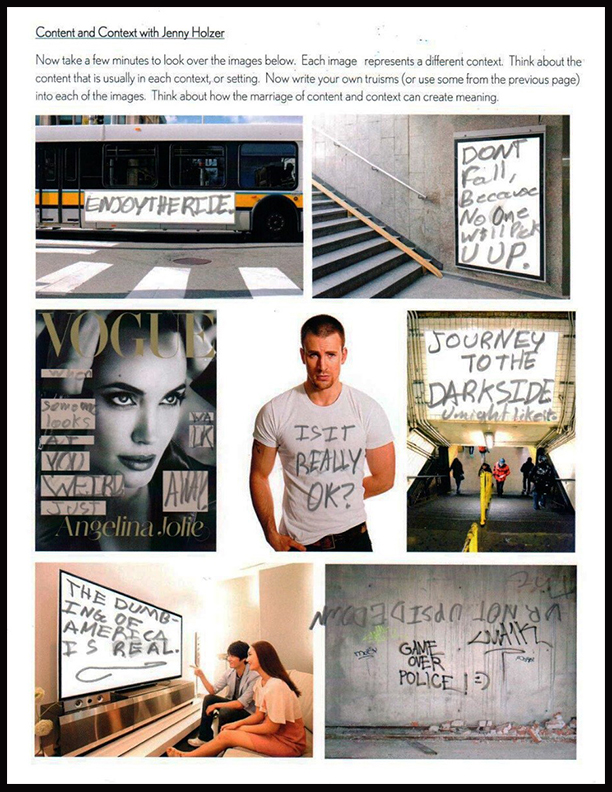 In the studio, students revisited the theme of context and how it can change meaning by rearranging "truisms" and images inspired by Barbara Kruger and Jenny Holzer.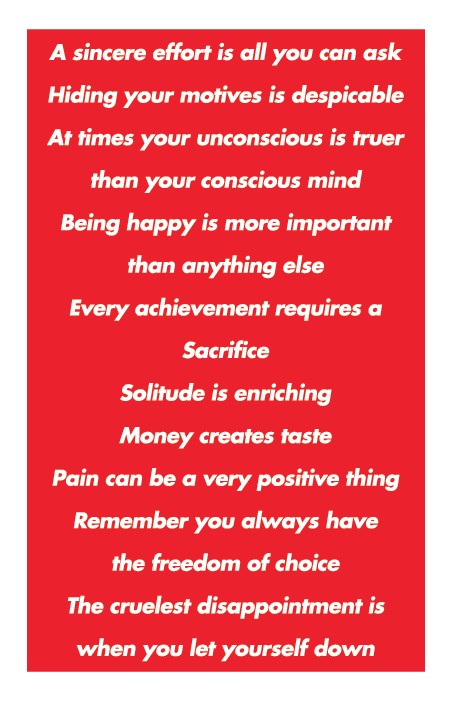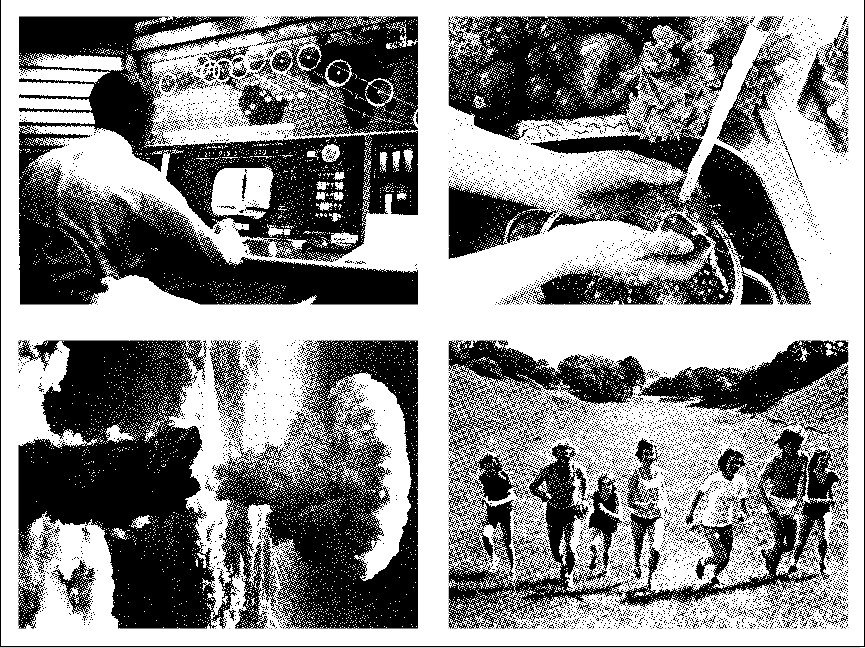 Students juxtaposed seemingly unrelated pictures and phrases to create powerful imagery with new meaning. By incorporating the content of Holzer and the working method of Kruger, the students explored the power of combining words and images in a way that co-opts the language of commercial advertising and creates meaning.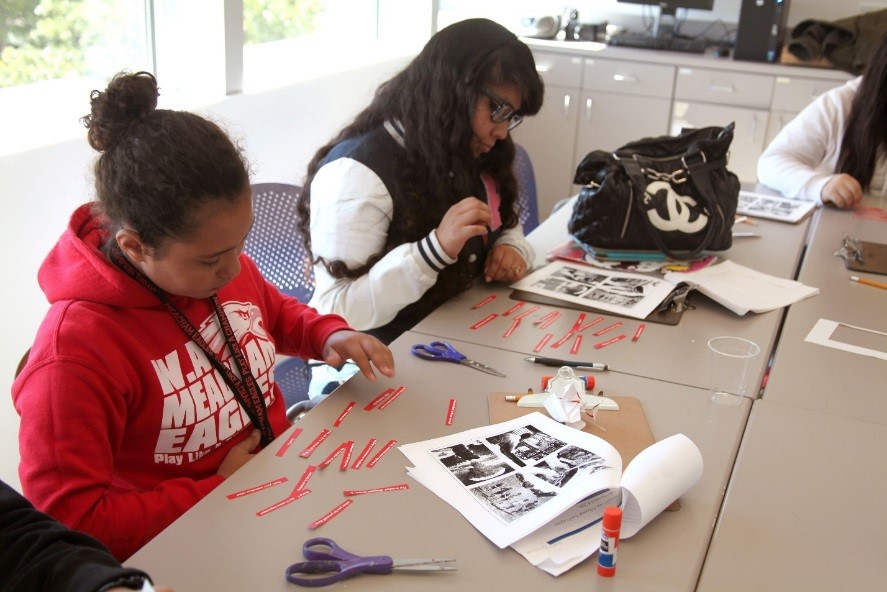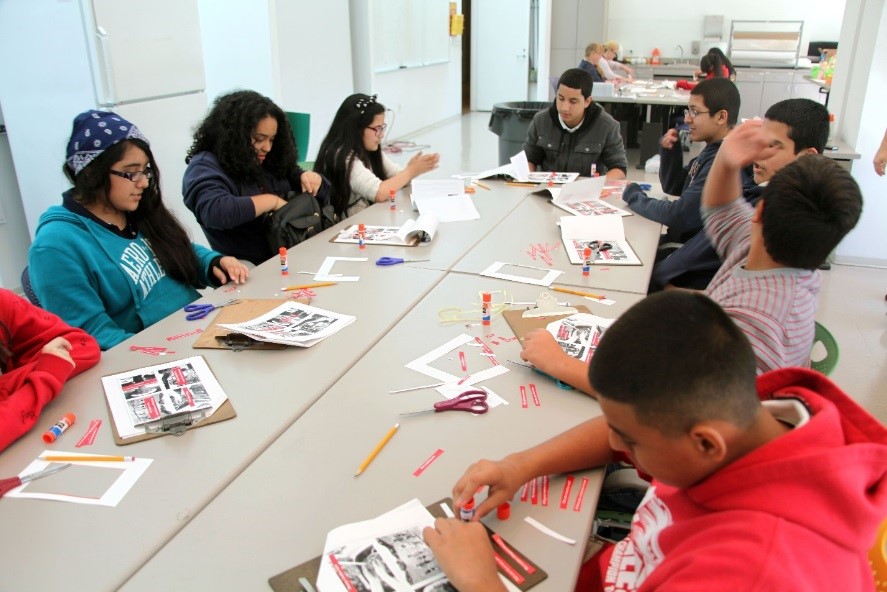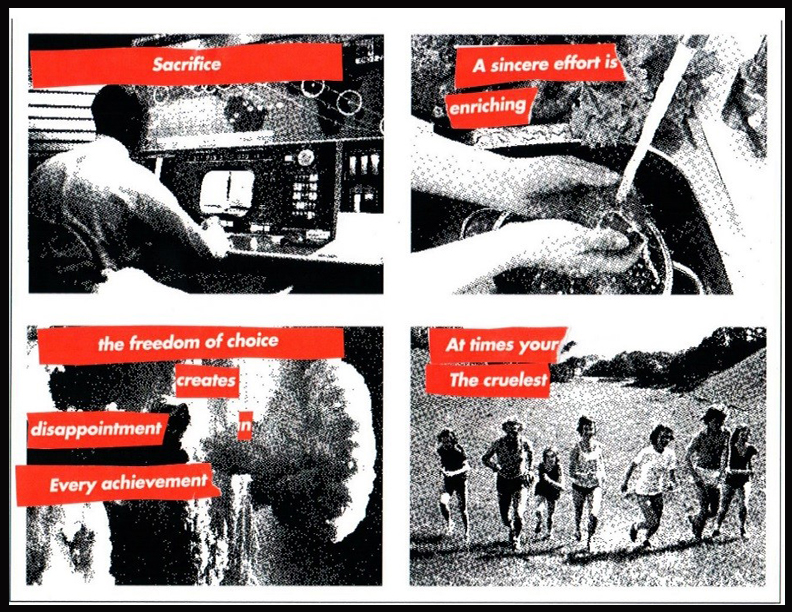 The program Writing to Look uses words and language to facilitate deeper understanding of the artwork, but it also strives to inspire fresh artistic ideas in young artists. The exercises create a dialogue between artist and audience, encouraging the students to build on the themes they encounter. As a result, students are prepared for future encounters with art, in museums and elsewhere. We hope the program helps reinforce a commitment to looking and helps students develop tools for critical thinking and viewing.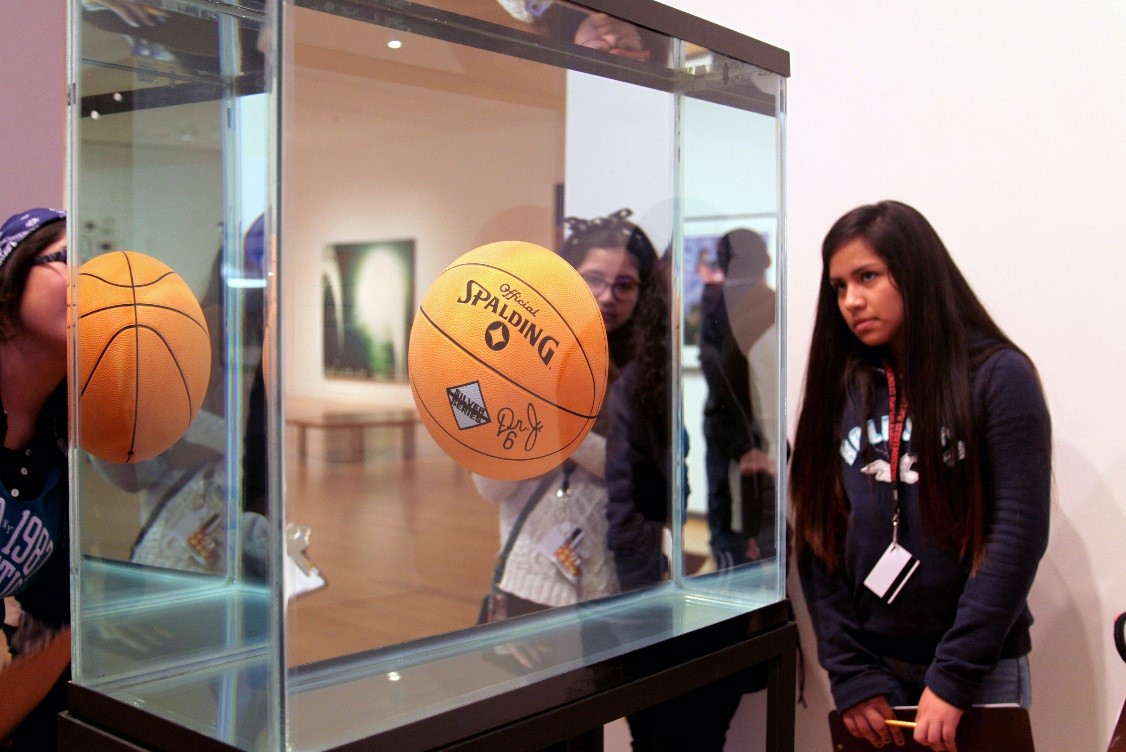 The students of W.A. Meacham will return to the museum in the spring for the opportunity to see two new exhibitions. We look forward to seeing them at the Modern again soon!