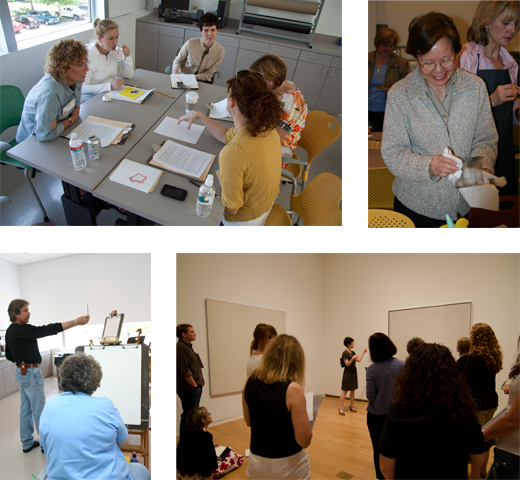 School Tours
The Modern Art Museum of Fort Worth welcomes student groups FREE of charge for docent-guided and self-guided tours of the permanent collection, special exhibitions, and the architecture of the museum. Docent tours are a great way to introduce your students to modern and contemporary art while learning about the context, technique, and process of works on view. Click here to request a tour.
School Repeat Visit Programs
For over a decade, the Modern has been proud to serve area public schools through two repeat visit programs: Writing to Look and Gallery and Studio Connections. For these programs, six middle schools and six high schools each make three unique visits to the Museum over the course of the school year.
Teen/Artist Project
The Modern's Teen/Artist Project pairs area high school students with artists as teachers and aims to expand students' art practices, introducing new concepts, artists, and media.
Graduate Tours Program
The Graduate Tour Program offers area graduate students in art and art history the opportunity to study works of art on view at the Modern and give tours based on their research. The semester-long course meets at the Museum on Fridays from 9 am to noon, and the public lectures are presented on selected Tuesday evenings and Saturday mornings. Museum staff is happy to coordinate with university faculty to secure credit hours for enrollees. Applications are due May 21 and require an interview. For inquiries and further information, contact Leslie Murrell at 817.840.2158 or leslie@themodern.org.
Continuing Professional Education Credits
The Modern is certified by the Texas State Board for Educator Certification to offer Continuing Professional Education (CPE) credits. Museum Forum for Teachers qualifies as a CPE activity, as do many tours, lectures, studio classes, and workshops offered through the Modern's education department. If you have questions about specific programs, or if you would like the education department to develop a custom workshop for CPE credit based around the Museum's collection, call 817.840.2141 or contact the Education Department here.
Educator E-mail Newsletter
Sign up to receive information relevant to educators through our Educator E-mail Newsletter. Send a message to the Education Department here, place the word "newsletter" in the subject line, and list your name, school, and the grade level(s) and subject you teach in the body of the message.
Educator Art Cards
Art Cards provide an introduction to selected works in the Modern's permanent collection. Produced specifically to help educators prepare their students for upcoming visits to the Museum, the Cards provide background information and broader contexts for understanding the individual works. Click here for printable PDF files.