Our November 11 meeting began with the students continuing to work on the 3D projects they started last week using Bristol board, masking tape, and glue.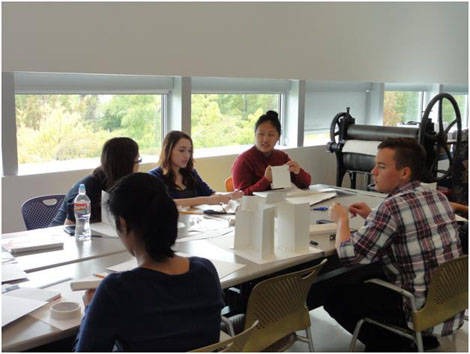 Iris then took us outside to provide some inspiration in the form of Richard Serra's Vortex from 2002. Leading T/AP in a conversation about Serra's work, Iris discussed Vortex's verticality and the small spaces created where the planes of metal touch each other. She asked the students to contemplate the interior of the sculpture, pointing out that Serra constructed his work in such a way as to beckon people inside.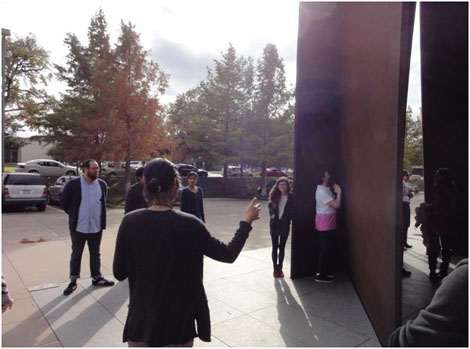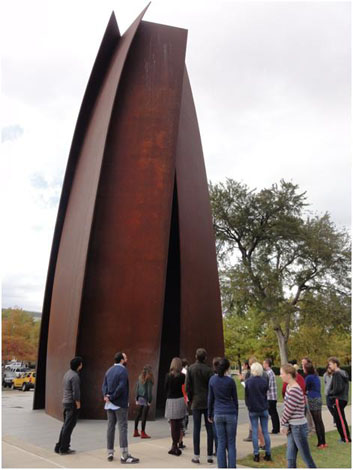 Back in the classroom, Iris presented a short video about Kurt Schwitters, an early twentieth-century artist, and his sculptural interior, the Merzbau. Throughout the 1920s and 1930s, Schwitters transformed a normal box-shaped room by adding sculptural elements to the walls and ceiling to create an interior space full of odd angles and planes, alcoves, recesses, and intrusions. Asking the students to consider Schwitters's interior while moving into the next phase of their 3D projects, we went back to the lab to continue working.
In this phase, Iris introduced black-and-white transparencies made from the students' photographs taken last Sunday. The transparencies were used to introduce graphic elements, and even the illusion of depth, into the 3D projects.