Sunday, January 13, turned out to be a very special day for the teen artists. They were afforded the opportunity to engage with the Modern Art Museum of Fort Worth in a way that only a very select few artists and patrons can: the teen artists were permitted to draw on the museum's walls!
The day began with Jeff Zilm, a multimedia artist, presenting examples of his past and recent work. Jeff spoke of various ways his work engages with "the network," cinema, painting, and language. He discussed several of his techniques in order to explain the concepts that inspire his art. One brief example involves removing the celluloid from black-and-white film reels, binding the resulting pigment to acrylic, and affixing this "film" to a canvas painted with reflective white theater screen paint. This kind of artwork addresses the slippage between cinema, projection, and painting.
Moving into the gallery, Jeff continued his discussion in front of Sol LeWitt's Wall Drawing #50 A, 1970. This work was installed in conjunction with the Modern's 10-year anniversary in the Tadao Ando building. It consists of what appears to be a large rectangle made of four lightly colored triangles; however, there is more to it than that. The work was first conceived as a series of written instructions: "A wall divided into four parts by lines drawn from corner to corner. Each section with three different colors made of parallel lines superimposed. Color pencil."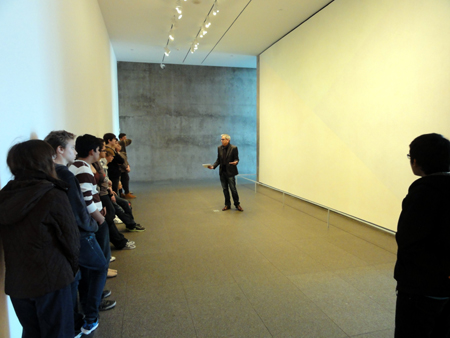 Further discussion of LeWitt's work involved its relationship to mural painting—as a work applied directly to the walls of the museum. As alluded to previously, the work exists in two parts—as a set of instructions and as the execution of those instructions.
Back in the lab, the teen artists were given time to sketch and formulate a work to be executed via instructions. They were each allowed wall space 3 inches high and 30 inches wide. You can see Nathan and Randy in the following photo measuring out the spaces on the museum wall.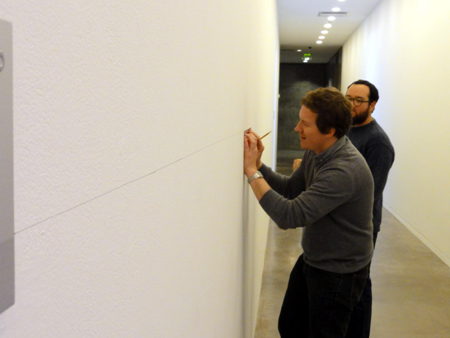 As the students finalized their sketches and formulated their instructions, they began to execute them on the walls.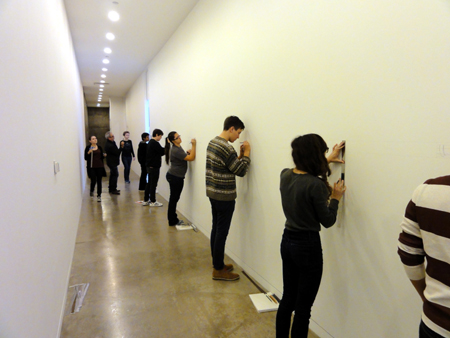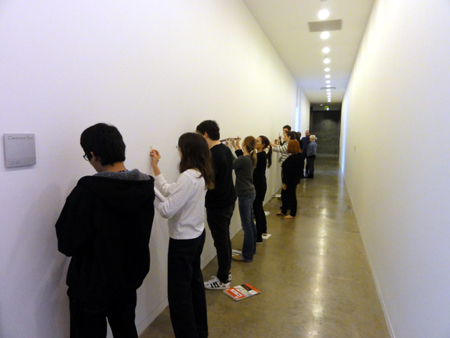 The following is a video of all of the wall drawings side-by-side.
Teen/Artist Project would like to sincerely thank the Modern for allowing the teen artists to draw on the wall; it is an opportunity that few are afforded, and we are grateful. Also, we especially want to thank Jeff Zilm for his time and knowledge; we greatly appreciate his mentorship.