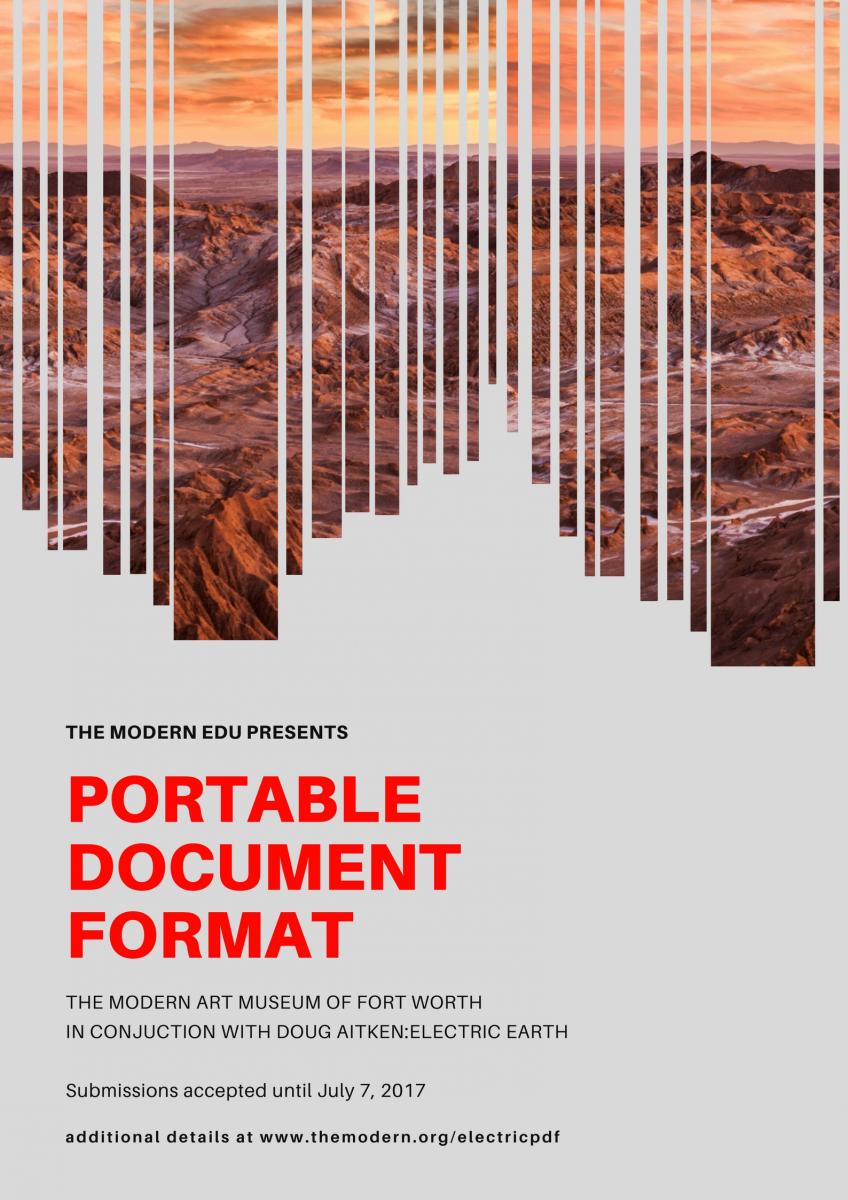 "I really like the idea of banality and repetition being used to generate the image,
which are simple and unobstructed and not captivated by composition."
Doug Aitken
In conjunction with Doug Aitken: Electric Earth, the Modern's EDU department is gathering image, text, video, sound and interactive content to compile into a multimedia PDF hinging on the conceptualization of the American Frontier and its transience into the 21st century.
Selected work will be curated into a nonnarrative format referencing Aitken's creation and disruption of narratives through editing and content.
Contributors are encouraged to submit heterogeneous interpretations of emigration, land use, entertainment industry aesthetics, post-appropriation, mass media, the Western, autonomous automobiles, cowgirls, pedestrianism, decadence, hypertext fiction, heroines, two-day weekends, collage culture, psychogeography, experimental architecture, flâneurerie, delivery systems, experience economy, Los Angeles, déjà vu and any other accents.
PARTICIPATING ARTISTS INCLUDE:
Kalee Appleton
Art Tooth
Summer Aquino
Lauren Barker
Andrew Birk
Tim Best
Brad Brace
Dave Butler
Alejandro Carrillo
Joanne Cervantes
Gary Cannone
Erika Duque
Connor Frew
Adam Fung
Rueben Gonzales
Scott Grant
Irene Grazi
Timothy Harding
Jane Helslander
Kirsten Hixson
Alex Kang
Lyndsay Knecht
Lindsey Larsen
Casey Leone
M
Ty Matthews
Nic Mathis
Michael Mazurek
Ashley Milow
Christopher Mosley
Ellen Mueller
Shelby Orr
Matthew Rowe
Madison Samas
William Sarradet
Caroline Senyszyn
Celia G Shaheen
Lola Skjolvik
Adam Socki
Carolyn Sortor
Alison Starr
James Talambas
Audrey Travis
Zac Travis
Stephen Vickers
Rachel Weaver
Joachim West
Bryan Wheeler
Brandon Zech

August 18 - PDF posted
For inquiries, please send emails to jbarnett@themodern.org with ELECTRIC PDF in the subject line.