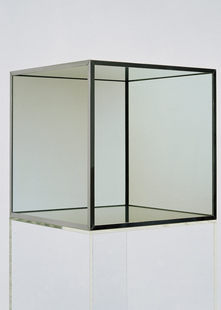 A tall, clear pedestal supporting a cube made of glass stands in a small, rectangular gallery on the Museum's second floor. The box's support—shiny chrome strips that meet to form precise corners—clarifies the cube's shape and volume. The thirty-eight-inch-high Plexiglas support is translucent, highlighting the smoky-gray color of the glass box. This subtle coloration, created by tinting clear class with a High Vacuum Optical Coating Machine, imbues the sculpture with a sense of mystery. Too heavy a tint would render the interior of the cube invisible; an absence of coloristic variance would cause the viewer's perceptual experience to be a tad one-dimensional. I find it especially interesting that each pane of colored glass is slightly more heavily tinted at its edges, growing less opaque toward its center. This alteration implies movement and is a subtle, but powerful, influence on my interaction with the piece.
In fact, the artist, Larry Bell, aims for his sculpture to work continually, always prompting the viewer to move about a piece, thus changing their viewpoint and augmenting their perception. This quality, coupled with the sculptures verticality—with its pedestal, Untitled (from Terminal Series) (1968) is fifty inches at its tallest plane—causes me to relate to the cube as if it were the head on a human body. I can peer inside the glass shape and witness the varying levels of opacity that occur as my eyes change position and see through one or more layers of the graphite-colored glass. That the bottom plane of glass and its support is translucent allows for a full visual comprehension of the both exterior and interior of the sculpture. This all works to strengthen my perceptual experience of what initially appears to be a simple, uncomplicated sculpture in a low-lit, side gallery of the Museum.
Consequently, because the piece is tucked away in the smaller, more intimate west galleries of the second floor is also significant to its interaction with the viewer. Whenever I come across this work, it is as if a discovery has been made. Rather than being positioned in a more spacious and airy gallery, Untitled seems to wait for the viewer to engage with it. The moodiness of the cube's color, paired with the reflective quality of its chrome skeleton, work in tandem to produce an effect that mirrors and beckons the viewer simultaneously. Not surprisingly, Bell is considered a leader of California's Light and Space movement. His interest in the quality and variance of light—and dedication to a perceptual experience via modest means (glass, metal, space, and light)—is clearly conveyed in the glass cubes of the artist's Terminal Series.
A related work by Bell, though not in this series, Iceberg and Its Shadow (1974) is a work that I would very much like to engage with. After listening to a podcast featuring Bell and Modern Art Notes blogger Tyler Green, I was pleasantly surprised to learn that this work (the artist's largest) was on display at the Modern in 1977 (in our days as the Fort Worth Art Museum). This ambitious work, comprised of fifty-six mirrored panels arranged in two parallel sections, was never installed in its entirety. Instead, segments of it were installed in various iterations and according to the time and space constraints of its host institutions. After listening to the entire interview, it was a delight to learn that Iceberg and Its Shadow was most completely installed during its time at the Modern (time constraints prohibited the full installation of the piece).
The impetus for Green's interview with Bell is the current bevy of exhibitions in Pacific Standard Time: Art in L.A. 1945–1980. This enormous survey includes sixty Southern Californian cultural institutions exhibiting work that represents every major L.A. art movement from 1945 to 1980. That Bell has a history – and a present – in our galleries makes a listen to this interview all the more rewarding.