"I'll take you there."
—The Staples Singers
This line popped into my head when thinking of two special exhibitions currently up at the Modern. In David Bates, "there" is specific—in FOCUS: Fred Tomaselli, it isn't. But in both exhibitions, the transcendental notion that art can transport the viewer still rings true. Each artist, though quite different from one another, calls up the traditional trope of art as a window that the viewer looks into and mentally travels through. Each creates a rupture in the viewer's present time and space that evokes a collective enchantment with art and offers the viewer an escape or a portal, imaginary or actual.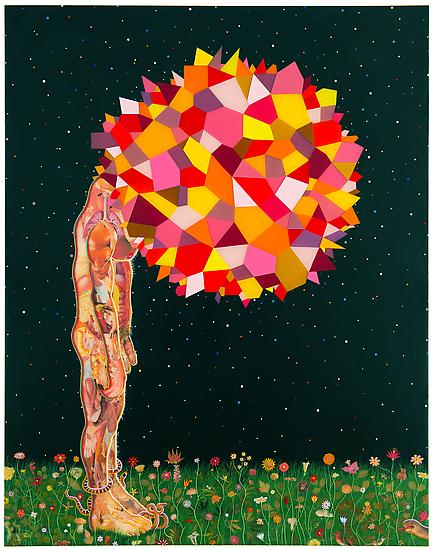 In the case of FOCUS: Fred Tomaselli, especially pieces such as Study for Head, 2013, the "place and time" represented might be thought of as internally conjured or imaginary. Tomaselli's signature work grew out of his fascination with escapism as seen in the culture of his youth in the 1960s and 1970s and into the early 1990s, as well as the failed utopian endeavors throughout time. In his recent lecture for Tuesday Evenings at the Modern, Tomaselli spoke of his interest in the sublime (or losing oneself in art) dovetailing with the psychedelic drug culture. A fascination with the role and nature of drugs as they moved from a source of pleasure and experimentation to a necessity for survival with the AIDS epidemic explains his early inclusion of actual pills and plants in the work. Those direct associations made way for more subtle means of addressing escapism and the mindscape, as in Breathing Head, 2002. But regardless of the means, Tomaselli will "take you there" as he champions pleasure in art because, as he said in his lecture, "I love being in love with what I'm seeing."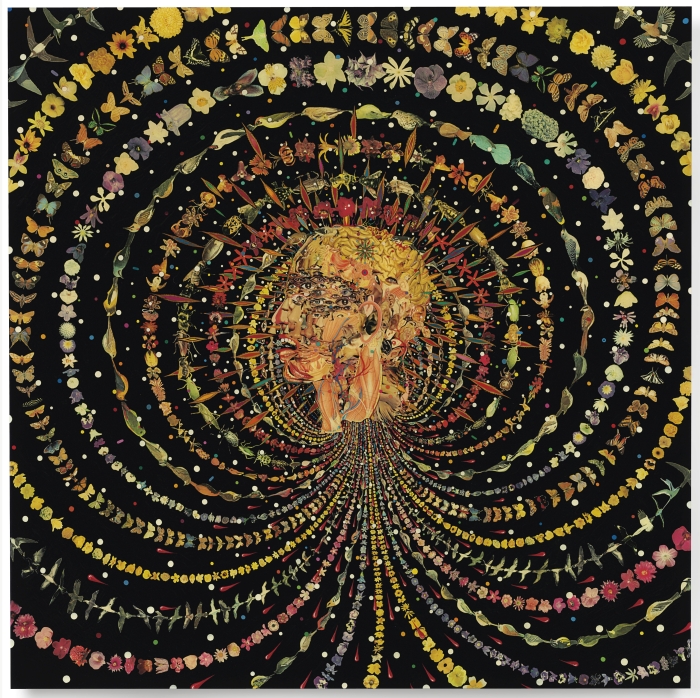 That unbridled enthusiasm for the visual takes me to Bates and his unabashed allegiance to painting pictures that are meant to "take you there." With his early paintings of Grassy Lake, a nature conservancy in Arkansas, Bates is true to his memory and experience of the place as he strives to directly share it with his viewer. In his dogged efforts to make art that transports, Bates uses everything in his arsenal, including the lessons of art history from the Venus of Willendorf to the conviction of Marsden Hartley to the expressive insistence of Picasso and Matisse to the matter-of-factness of Jasper Johns and on and on. Unlike Tomaselli, for Bates the facts of a physical reality are his source and that is what he intends to convey. But it should be noted that Bates finds more satisfaction and truth in his memory coupled with the suggestive marks of on-site drawings than the frozen facts that photographs might offer as the source for his paintings. Regardless, the resulting work is relentless in its presentation of the artist's observations and experiences. What Tyler Green of Modern Art Notes referred to in his conversation with Bates for Tuesday Evenings at the Modern as "muscular," indicating the works' dark outlines and broad strokes, I see as an insistence that the paintings be seen and encountered, an insistence that they "take you there."