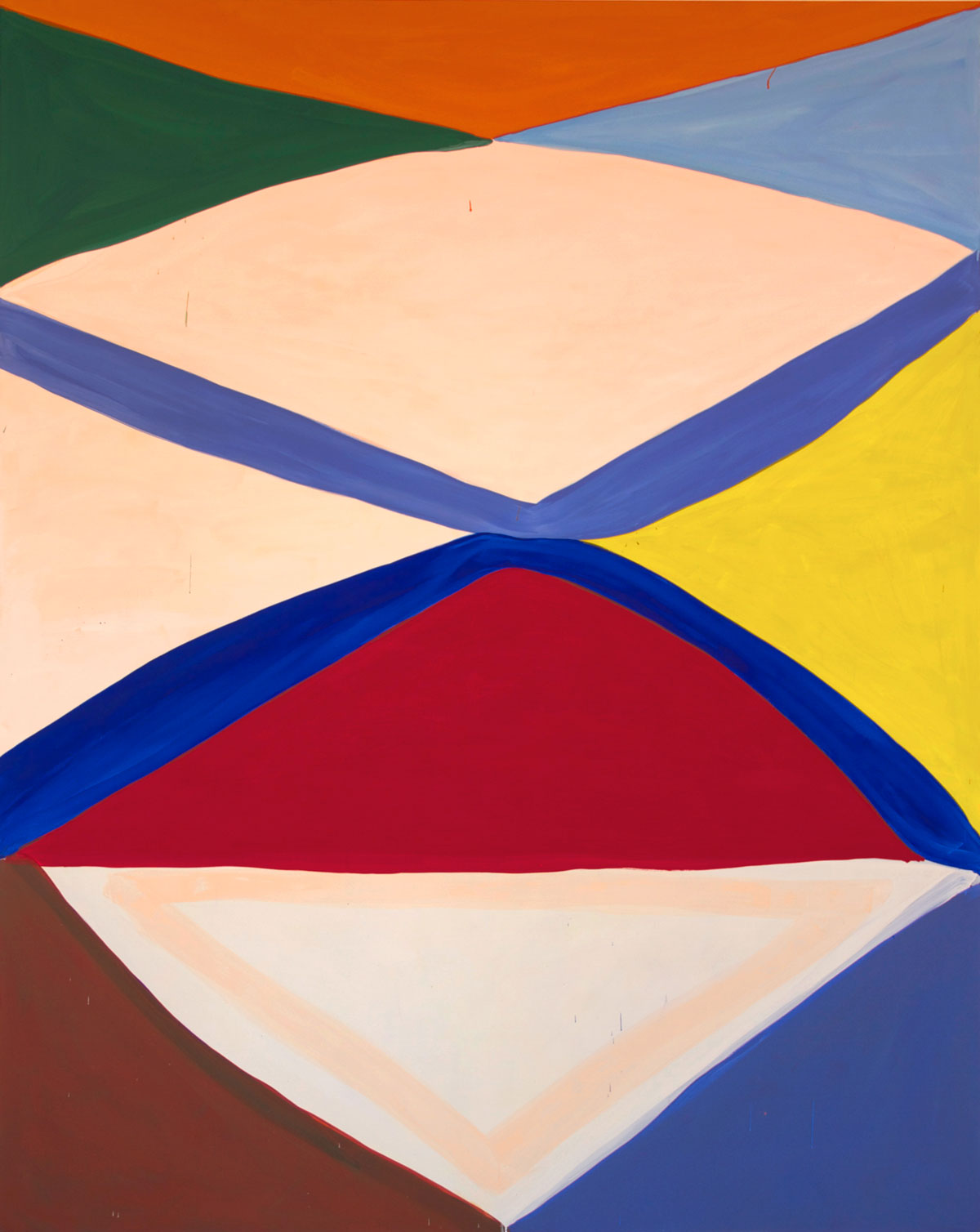 FOCUS: MARINA ADAMS
November 6, 2020–January 10, 2021
This essay accompanies the exhibition FOCUS: Marina Adams.
The American painter Marina Adams creates abstract works where organic forms of color abut and interlock. Challenging color theory with unlikely combinations, her compositions demonstrate how the character of a color shifts in relation to its neighboring hues to evoke mood. Her eccentric compositions and unexpected palette offer an element of surprise by "really waking people up," as Adams has said. "If you give people what they already know, then they stay asleep."1 Her work shares a kinship with the modern French avant-garde painters Sonia and Robert Delaunay who, like Adams, juxtapose oppositional and exceptionally vibrant colors, incorporate biomorphic forms in their abstractions, and have undeniably rhythmic compositions.
Adams also looks to architecture, literature, and textiles for inspiration. By underscoring elements and symbols that repeat across civilizations, eras, and artworks throughout history, she highlights the interconnectedness of visual cultures globally. The crisscrossing lines and diamond-like shapes in Days and Nights, 2018, for example, resemble patterns that can be found in diverse places at different moments in time, such as sixteenth-century Italian harlequin prints, Moroccan textiles from Rabat, or Ellsworth Kelly's imperfectly shaped forms in the lithographic series Colored Diamonds, 1997. As she has said, "Pattern is a language that crosses boundaries. It offers common ground." It is in these synchronicities, she continues, that "we find how we're alike, as opposed to always thinking about how we're different."2  
Just as Adams's shapes and colors evoke a variety of familiar forms, her use of referential titles de-accentuates the paintings' abstractness. In Days and Nights, the composition has two main triangular structures. The warm hues in the top half of the painting, canary yellow and orange, contrast with the midnight blue and brown of the bottom half, and the mirroring inversion of the forms suggests that they represent the same scene in both daylight and twilight. Cheops, 2018, refers to the ancient Egyptian pharaoh for whom the Great Pyramid of Giza was built, and the painting's composition echoes the title by incorporating pyramidal forms. Such titles are important as they offer viewers paths of entry into her otherwise non-narrative motifs.
The artist's process balances structure with spontaneity, charting her compositions in charcoal, then adding loose brushstrokes and improvised color combinations. In The Color of Water, 2016, bands of sheer color overlap and drip down the canvas, evincing a fresh immediacy. Although different in terms of palette and the paint's opacity, Standing Rock, 2016, mirrors the composition of The Color of Water. Both also have the same dimensions, though the orientation of The Color of Water is turned upside down (or vice versa). These works demonstrate Adams's deliberate and careful variations on her themes that test the possibilities of color and form. She approaches her work as a practice, stating, "You have your history and your wisdom, which you bring to each painting. You also have your confidence because you've been there before, and you know you're up to it. You have to do it over and over and over again."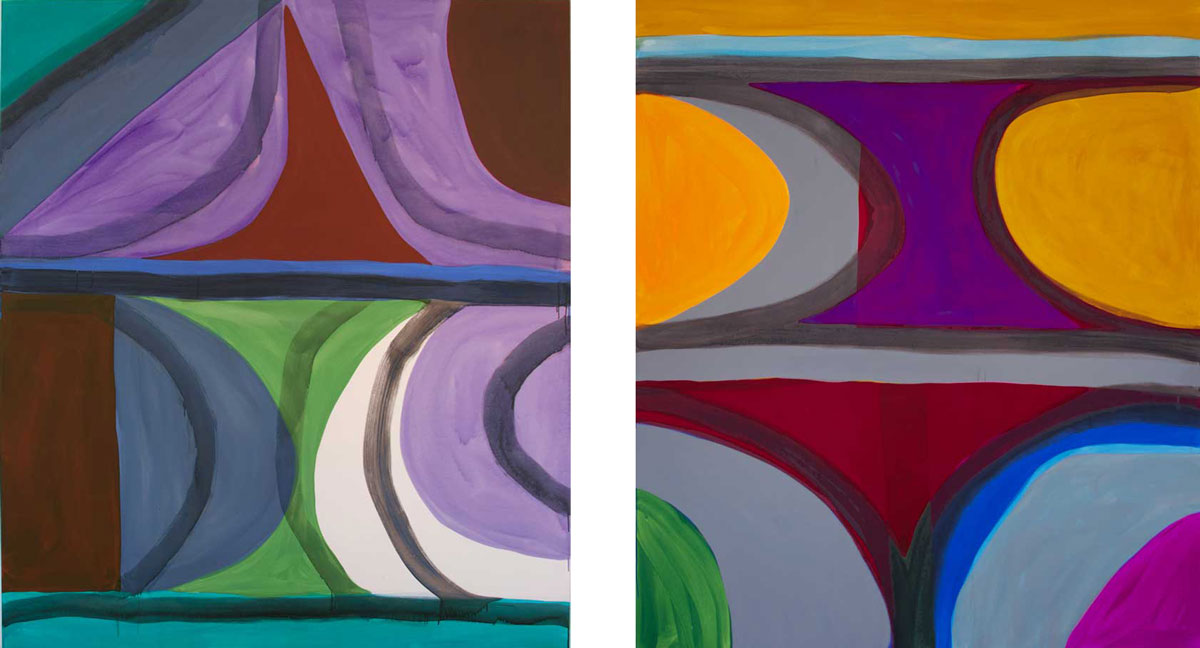 In addition to sketching directly on her canvases, Adams develops compositions in her works on paper, as seen in the NY Series. Each gouache in the series features a single shape made with one color on bright white, handmade Indian paper, blurring the distinction between positive and negative space. The NY Series influences her larger paintings but are not direct studies for them. Adams began the series in 2010 after seeing an exhibition at the Villa Medici in Rome that paired the American modernist Ellsworth Kelly's hard-edged paintings with figurative drawings by the nineteenth-century Neoclassical French artist Jean-Auguste-Dominique Ingres. The unexpected pairing focused viewers' attention on the treatments of curves in Kelly's abstracted forms and in Ingres's depictions of the human body—two very different approaches to shape that also reverberate throughout Adams's oeuvre. 
Soft, undulating forms in Adams's paintings such as Purple Heart, 2018, suggest the female body, creating a decidedly feminine space within the traditionally male-dominated realm of abstract painting. "If history is written by the victors of wars, it's written by men. Men don't include us, and we don't see ourselves. I am absolutely putting things out there so that women and young women see themselves, which is part of the politics of my work," Adams has stated. Her use of patterns from textiles underscores the female sphere, as such materials have been traditionally deemed "women's work" or craft, a category historically less valued than painting. However, because Adams paints her patterns and curves on a grand scale and orients her works vertically so that they literally confront the body of the viewer, they become visceral and immersive. "It's not about an idea, it's more about an experience," the artist explains. "It's about calming down. . . . Something that can speak across languages and cultures."3   
–Alison Hearst, associate curator
MARINA ADAMS BIO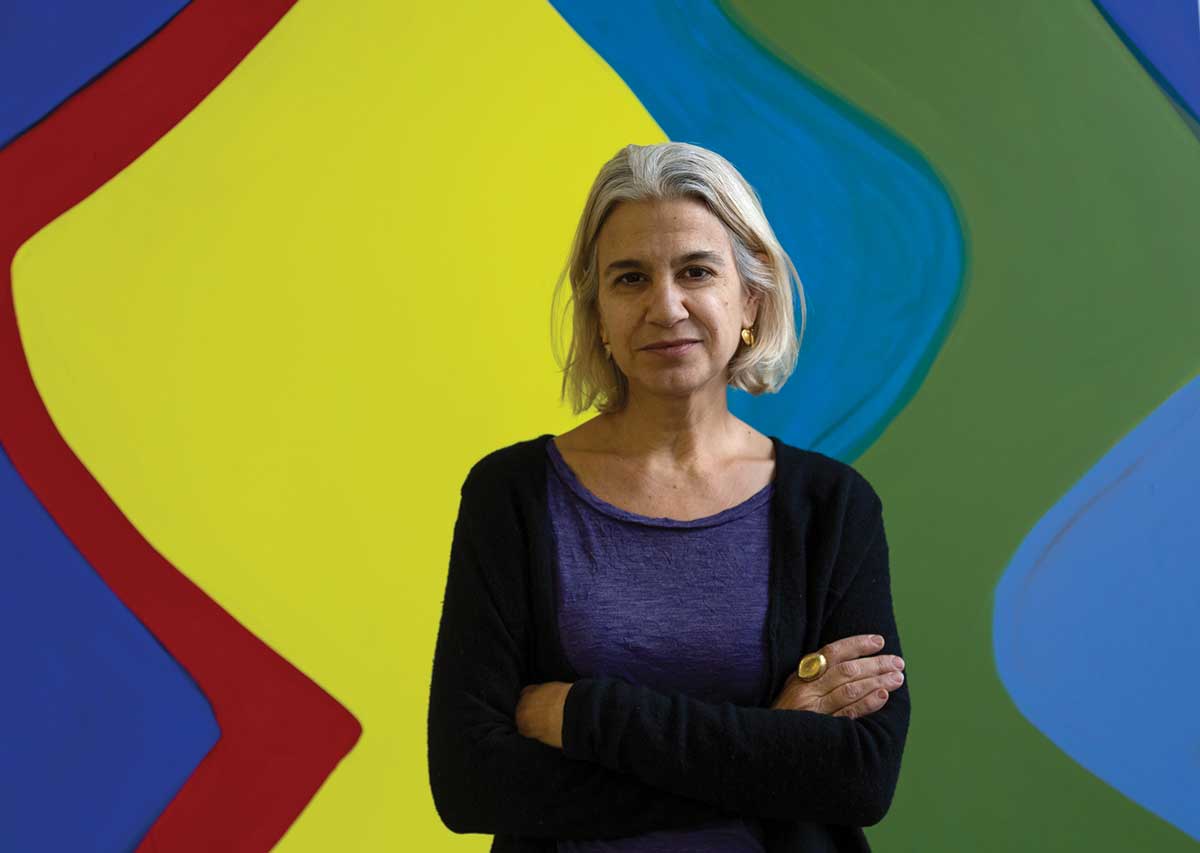 Born 1960, Orange, New Jersey; lives and works in New York and Parma, Italy
EDUCATION
1980 – BFA, Tyler School of Art, Temple University, Philadelphia
1983 – MFA, Columbia University, New York
SELECTED RECENT SOLO EXHIBITIONS
2019
The Secret of Greek Grammar, Larsen Warner, Stockholm
SongLines, The Madoo Conservancy, Sagaponack, New York
Anemones, Salon 94, New York
2017
Soft Power, Salon 94, New York
2016
Marina Adams, Marc Jancou at Giovanella Kunstglaserei, Geneva
2013
Coming Thru Strange, Hionas Gallery, New York
2008
Marina Adams, CUE Art Foundation, New York
SELECTED RECENT GROUP EXHIBITIONS
2018
2018 Invitational Exhibition of Visual Arts, American Academy of Arts and Letters, New York
2017
Artemisia, Galerie Albert Baronian, Brussels
A Space for Thought, Brand New Gallery, Milan
Aspects of Abstraction, Lisson Gallery, New York
Vanishing Points, James Cohan, New York
2016
Boys and Girls Can Still Draw, Nathalie Karg Gallery, New York
Making & Unmaking, Camden Arts Centre, London
2015
The Thing Itself, The Center for Contemporary Art, Bedminster, New Jersey
2013
Come Together: Surviving Sandy, Year 1, Industry City, Brooklyn
Wit, The Painting Center, New York
2012
Color Walks Away, Galerie Andres Thalmann, Zürich
2011
Chain Letter, Samsøñ Projects, Boston
Winter Break, Momenta Art, Brooklyn
2006
I Feel You, Roebling Hall, Brooklyn
2004
Mimosa, Sala 1, Rome
2003
Sottovetro, Galleria Esedra, Rome
Homage to Nina Simone: Everyone's Gone to the Moon, RAM radioartemobile, Venice Biennale