FOCUS: WAEL SHAWKY
April 2–June 20, 2021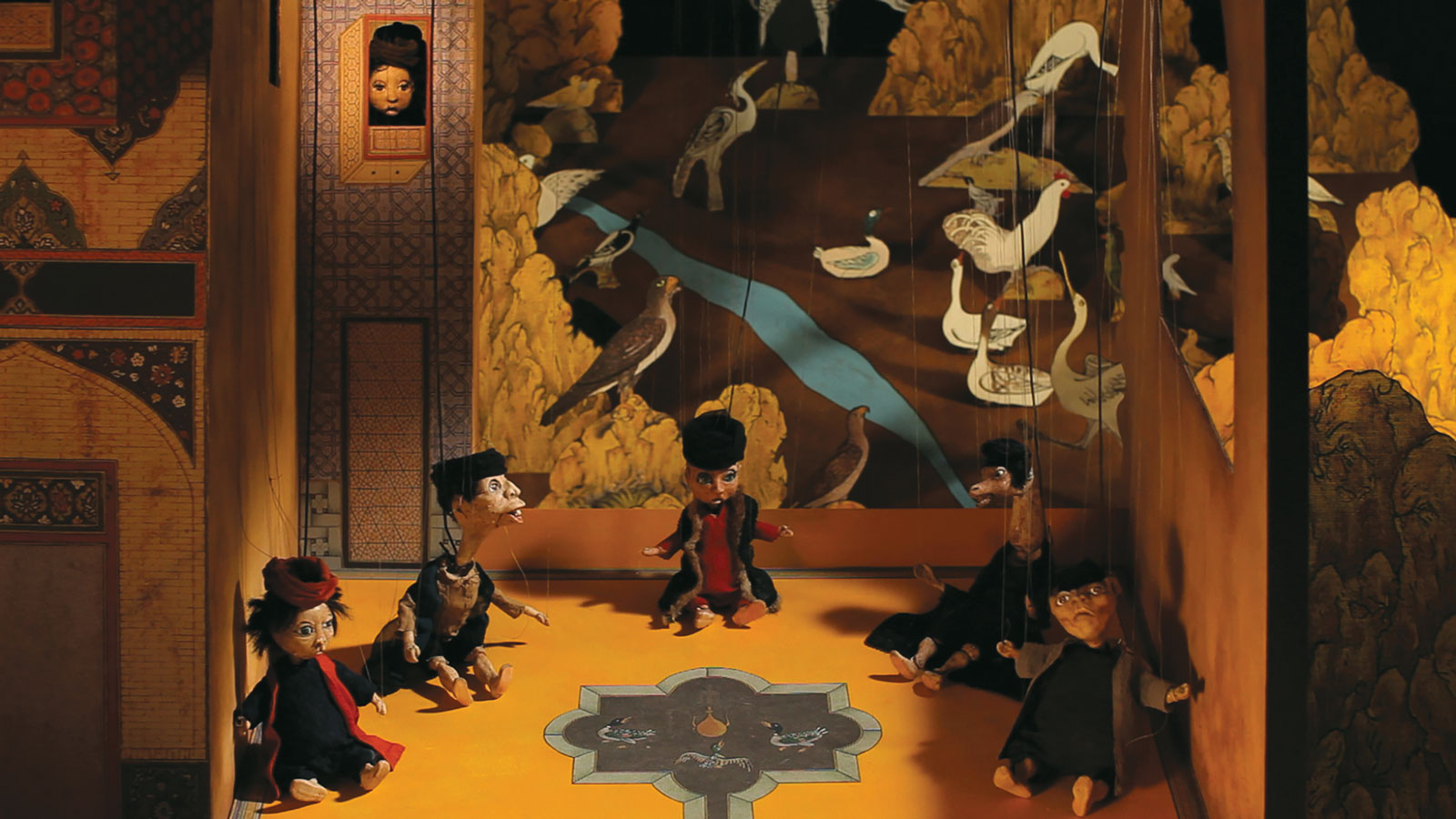 Wael Shawky explores the ambiguities between history and myth in order to challenge history's authority. His projects, which include film, sculpture, and drawing, also raise questions about the role of history—and the biases held by those writing it—in forming longstanding national identities. For his ambitious filmic trilogy about the medieval Crusades, Cabaret Crusades, 2010–14, the scripts are based on the work of ancient Arab historians and geographers and are acted out by handmade marionettes. On view in the exhibition is the second film from the trilogy, Path to Cairo, 2012, which focuses on the first and second Crusades (1099–1145 CE). Shawky's themes of religious and geographical antagonism have much relevance today, leading the work to resonate equally with the present and the past.
Alison Hearst: Your projects are motivated by storytelling and the subjective nature of an author's perspective. How do you choose the stories that you retell in your work?  
Wael Shawky: The Cabaret Crusades films reflect the Crusades through Arab eyes. To write the script, I used original texts by historians who lived during and after the Crusades, such as Ibn al-Qalanisi, Ibn al-Athīr, Usamah Ibn Munqidh, and of course, Amin Maalouf. It's not that I think these particular written documents are the correct ones, but I wanted to concentrate on the Arab point of view. Maalouf's book gave me the timeline, locations, and choreography for the films. It was like a guide, but what he wrote, in the end, is partly fictional. My use of these histories is a critique or an analysis of how much we believe written history.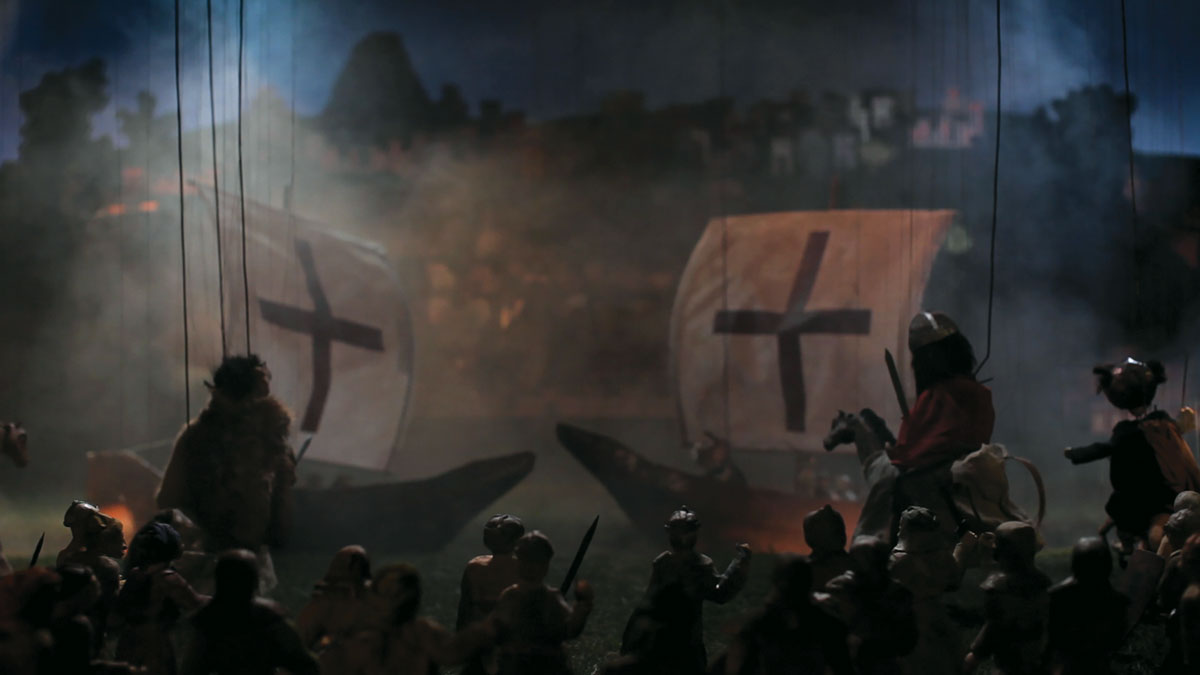 AH: Do you intend for your highly stylized treatments of these reenactments to add another layer to this idea of subjectivity in storytelling?
WS: Yes, I add my own layer of myth. Most of the carved wood reliefs made for the project were based on historical European paintings telling the story of the Crusades. Painting then was also a form of documenting history. I treat paintings like documents, and I'm also questioning their authenticity. With the paintings, I respect the original image, but then I'll add a creature or monster from my imagination. Though, of course, my imagination is evident in every aspect of my work—for example, using marionettes in the films.
AH: Right, which leads me to my next question. Path to Cairo, which we are showing at the museum, is positioned in an intricate, cardboard set and acted out by glass-and-clay marionettes. Why did you choose to use marionettes?  
WS: Marionettes are a metaphor for manipulation and the social structure that really has the authority. One layer is controlling another layer and so on; you don't know who's controlling who in the end. Another part of it is that I really don't like to use human actors. By using puppets instead, you're able to understand and analyze history from different points of view because it removes you from the cliché of cinema. Marionettes erase acting skills and drama, leaving you to deal with the topic, the music, and the script. I feel it's purer; you can also project yourself onto a marionette much easier than onto a professional actor.
AH: Speaking of theatrics, the title "Cabaret Crusades" is so evocative—the term "cabaret" suggesting theatrical entertainment. What led you to this title?  
WS: In the historical sources, you see that the historians present the Crusades as a story between good and evil, and there's always a beginning and an end, which makes no sense; it's continuous. So, it's interesting to deal with this period as a theatrical show or play. There's also a fascinating part about the word "cabaret"; it is used in Germany to describe a group of people talking about politics. So, "cabaret" can be partially political, partially entertainment, which, to me, is very close to the way history is presented.
AH: What you just said about continuity makes me think of the drawings you've made for the show. For your FOCUS exhibition, there are 28 new drawings related to Path to Cairo. Will you describe these drawings, your process, and your decision to revisit the themes you traversed nearly a decade ago in Path to Cairo?
WS: The first film in Cabaret Crusades was made in 2010, and while the three films are finished, this project never really ends and the analysis is ongoing. The Crusades period is much easier to work with than our current history; now everything is well documented with cameras, phones, and such. In the history of the Crusades, you're just using the written text and paintings, so you still can have a big part of your imagination fill the gaps and uncertainties with drawings. That's why the project is not really finished for me. The drawings always connect to the stories I'm reading, but they are completely spontaneous. It's a surreal process.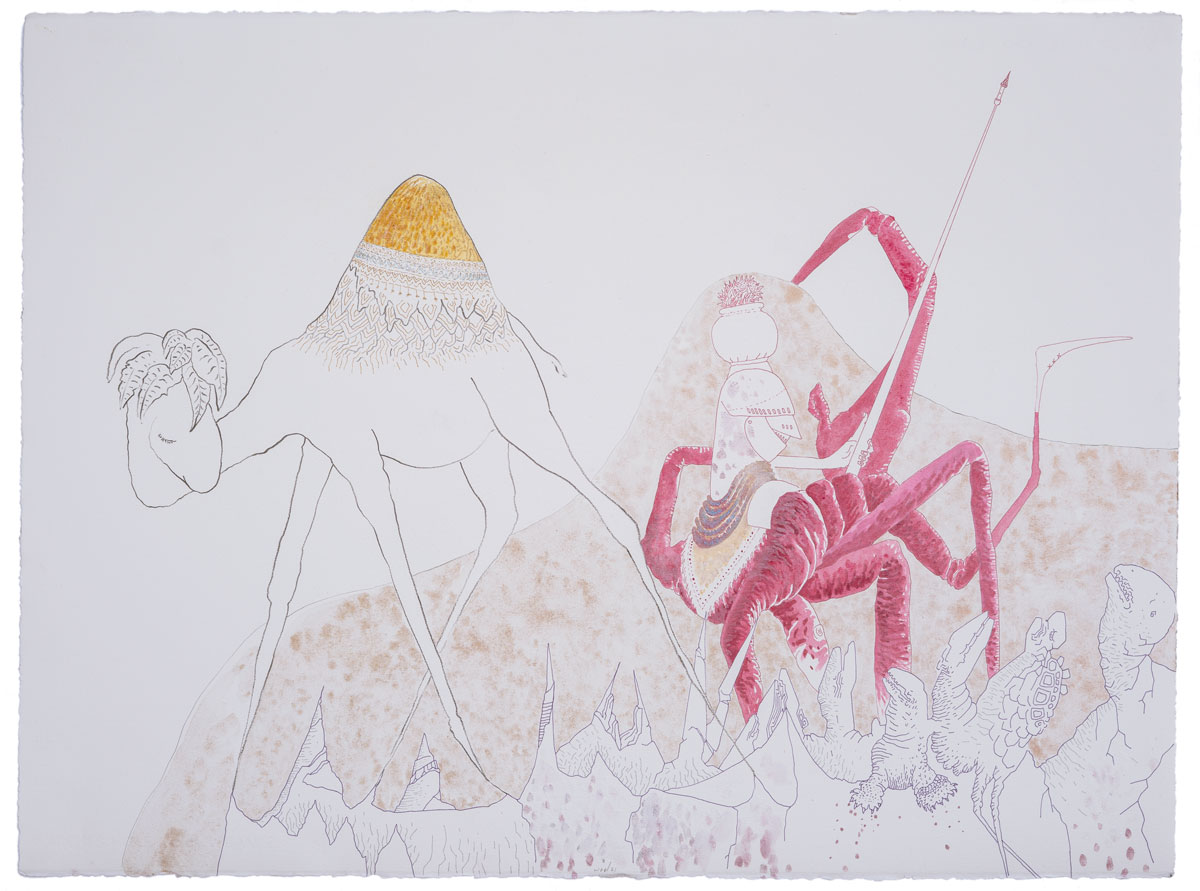 AH: This intuitiveness also connects to the idea of mythmaking that we discussed earlier.
WS: Yes. There are characters in my drawings that I have no idea where they came from, and I would be lying if I said that they mean something. These characters are in everything: drawings, films, the carved wood. There are monsters with big eyelashes; sometimes they are sleeping, sometimes they are romantic and kissing each other. They are part of my language, and I can communicate serious topics through these characters. And honestly, making drawings is what I most enjoy. You just make them alone in your studio, so it's very interesting, very nice to do it. What you can achieve with drawings you cannot really achieve with the films.
AH: On the subject of drawings, you also incorporate drawings by Arab calligraphers from the Middle Ages into the films. What role do the drawings serve in the films?
WS: Yeah, that's a big part of the work that started with Path to Cairo. The scenography in the film is based on the work of the Bosnian artist Nasuh Matrakçı. Nasuh was a weapons maker, geographer, scientist, artist, and mapmaker—you know, they were making everything at this time. He made beautiful maps of Jerusalem, Baghdad, Damascus, Aleppo, and many cities in Persia. In the film, I used his maps, which are very primitive, of course, but I turned them into a 3D scenography. In the background of Path to Cairo, when you see the marionettes standing and talking in Baghdad, for example, the city in the background is based on Nasuh's map. And everything's like this. That's why Path to Cairo is very colorful, because it's based on Nasuh. I decided to make the third part of the trilogy, The Secrets of Karbala, based on Giotto's painting, so it's more pink and gold.
AH: With the religious and nationalistic themes that run throughout Cabaret Crusades, there is clearly a connection to world events today. Is there any significance to showing this work in the United States at this particular moment?
WS: Yes, absolutely. I think it's really interesting to work with such a topic today. Even now, for people in the Arab world, the Crusades are an icon for the split between West and East. So in Texas and the US, it is very important to try to analyze why this split happened and to do it from the perspective of the Arab people. I mean, we cannot see today's situation in the Arab world as separate from what happened a thousand years ago. It all has a reason. 
EDUCATION
2001 MFA, University of Pennsylvania, Philadelphia
1994 BFA, University of Alexandria, Alexandria
SELECTED RECENT SOLO EXHIBITIONS
2020
The Song of Roland: The Arabic Version, Louvre Abu Dhabi
2018
The Crusades and Current Stories, ARoS, Aarhus
2017
Al Araba al-Madfuna, Museum of Contemporary Art Yinchuan
2016
Wael Shawky, Castello di Rivoli, Turin
2015
Cabaret Crusades, MoMA PS1, New York
2014
Horsemen Adore Perfumes and Other Stories, Sharjah Art Foundation
2013
Al-Qurban/The Offering, Serpentine Gallery, London
SELECTED RECENT GROUP EXHIBITIONS
2020
Notre Monde Brûle/Our World is Burning, Palais de Tokyo, Paris
between the sun and the moon, Lahore Biennale 02
2019
Glasstress 2019, Fondazione Berengo Art Space, Murano
Leaving the Echo Chamber, Sharjah Biennial 14
2018
Gangwon International Biennale
2017
Islands, Constellations & Galapagos, Yokohama Triennale 2017
Dream City, Tunis Biennial
2016
Reconstruction of Story 2: Duncan Campbell, The Otolith Group, and Wael Shawky, National Museum of Modern and Contemporary Art, Korea, Seoul
2015
Une brève histoire de l'avenir, Musée du Louvre, Paris
Saltwater: A Theory of Thought Forms, 14th Istanbul Biennial
Too early, Too late. Middle East and Modernity, Pinacoteca Nazionale di Bologna
2014
Manifesta 10, The State Hermitage Museum, Saint Petersburg
You Imagine What You Desire, 19th Biennale of Sydney
2012
Documenta13, Kassel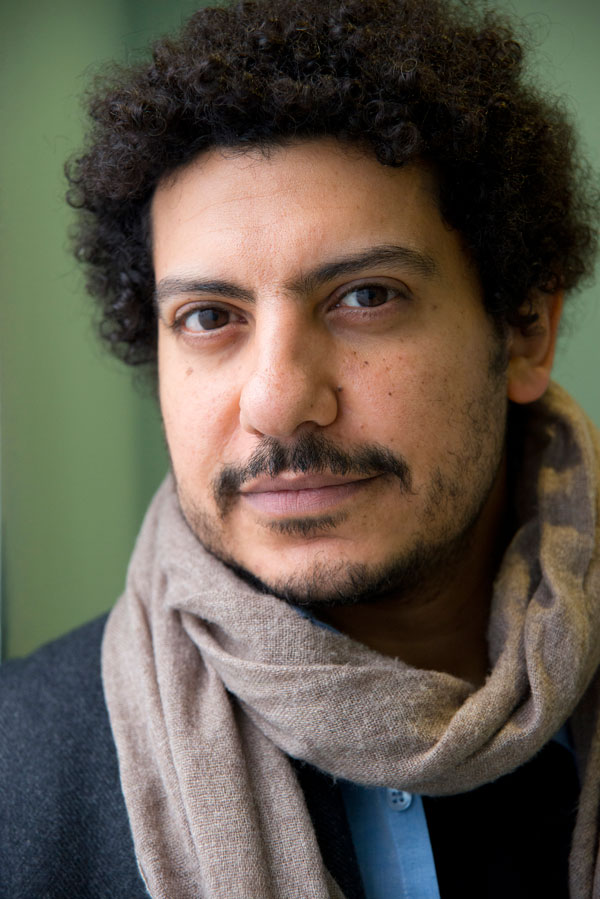 Wael Shawky, Artist portrait 2014
Born 1971, Alexandria, Egypt;
lives and works in Philadelphia and Alexandria, Egypt