Join Modern Contemporaries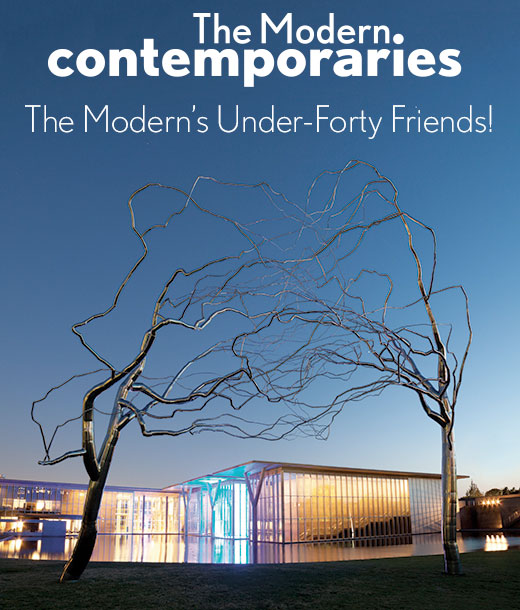 Modern Contemporaries receive an invitation for Cocktails with the Curator on September 18, including a tour of México Inside Out: Themes in Art Since 1990!
Who we are.
The Modern Contemporaries are a dynamic group of Modern Art Museum supporters in their 20s and 30s-young professionals, graduate students, artists, art lovers, Fort Worth natives, new residents, and everyone in between.
What we do.
The Modern Contemporaries enjoy exclusive social, cultural, and educational events.
Events throughout the year include special tours, cocktail parties, casual outdoor events, happy hours, architecture tours, and much more!
All events are free to Modern Contemporaries members.
Why you should join.
The Modern Contemporaries offers exclusive opportunities to learn about and experience modern art in a social setting with friends. You will receive a full year of membership benefits at the Modern, and a group to share the experience with.
Annual membership benefits include:
Exclusive invitations to The Modern Contemporaries events
Unlimited free admission to the Modern
Free subscription to At the Modern, the Museum members' magazine and calendar of events ($20 value)
Priority enrollment and discounts for all classes at the Modern
Invitation to the New Member Orientation
Invitation to afternoon previews of special exhibitions
20% discount on all regularly priced items in the Modern Shop and the Modern Shop Online
10% discount at Café Modern
Discounted tickets to Modern film and music events
Annual membership dues
Individual – $115
Couple – $165
Already a Modern Member?
Simply add $50 per person to your current membership dues.
For more information, please call 817.840.2115
or email membership@themodern.org.