Over the past two decades, Mark Bradford has created monumental works of abstract painting and collage. This exhibition focuses on the key material and fundamental motif Bradford employed early in his career and has returned to periodically over the past two decades: end papers.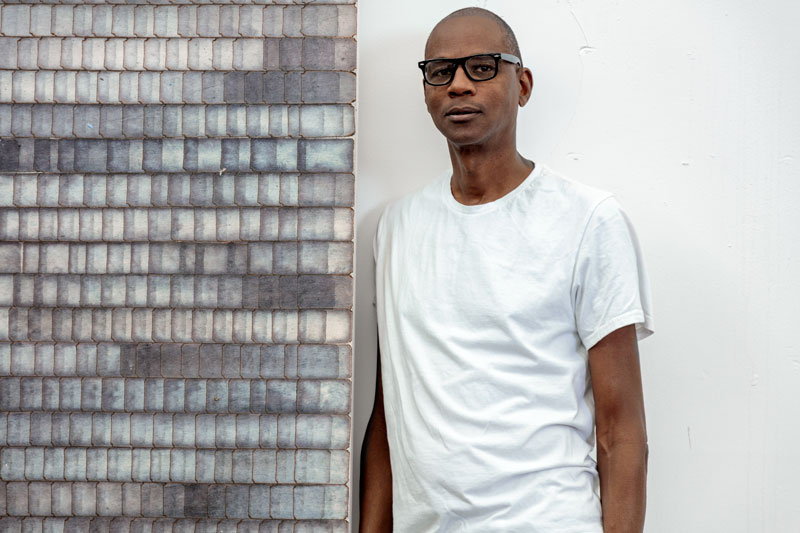 Photo by Joshua White
Bradford's mature work began with his experimentation with end papers while a student at the California Institute of the Arts in the late 1990s. He had grown up in his mother's beauty salon, eventually becoming a hairdresser himself, and was therefore quite familiar with the small papers used to protect hair from overheating during the process for permanent waves. Incorporating them into his art was catalytic for Bradford, merging his abstract painting with materials from his life. The thin, delicate sheets are almost translucent and create the effect of soft brushstrokes across the surface of his compositions. Bradford has said, "I learned my own way of constructing paintings through the End Papers—how to create space, how to use color. And how to provide a new kind of content. They were the beginning for me. . . . It all began in the beauty salon."
In addition to his use of end papers, Bradford brings the salon into his art in other ways. Some titles are snippets of conversations that took place there or relate to aspects of that environment. For example, Click, 2001, evokes the sound of a curler locking into place. Many of the colors in these works come from hair dyes, such as in 43G Spring Honey, 2001. The artist's combinations of colors imbue a dynamic quality of movement and create an ethereal depth. Over time, the compositions began to resemble pixilated, aerial maps of greater Los Angeles. Simultaneously, Bradford's thoughts were evolving toward things he was seeing outside the salon.
Bradford's End Paper works inspired his later use of "social papers," such as merchant posters, advertising broadsides, and billboards he found in Los Angeles. By layering these materials, he creates a rich collage of his urban environment. Ultimately, Bradford's works are as much about place as materials. As Bradford has said, "Art materials are always personal. We make them personal. But they are also connected to something else. In my case, it's community."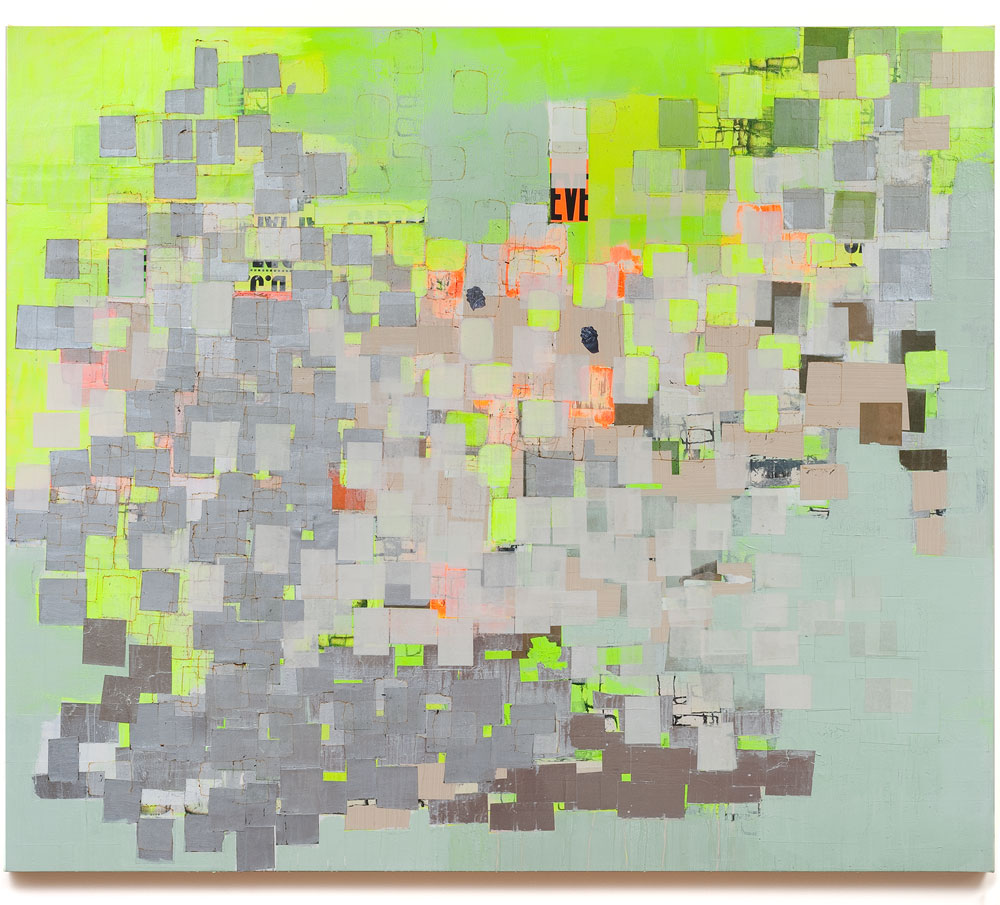 Eve, 2001. Mixed media on canvas. 72 × 84 inches. JP Morgan Chase Art Collection. © Mark Bradford.

Bradford continues to extend his reach into his community. In 2013, he (along with philanthropist Eileen Harris Norton and activist Allan DiCastro) established Art + Practice, a nonprofit organization based in the Leimert Park area of LA that provides resources for underprivileged youth while encouraging their creativity.
Purchase your tickets now...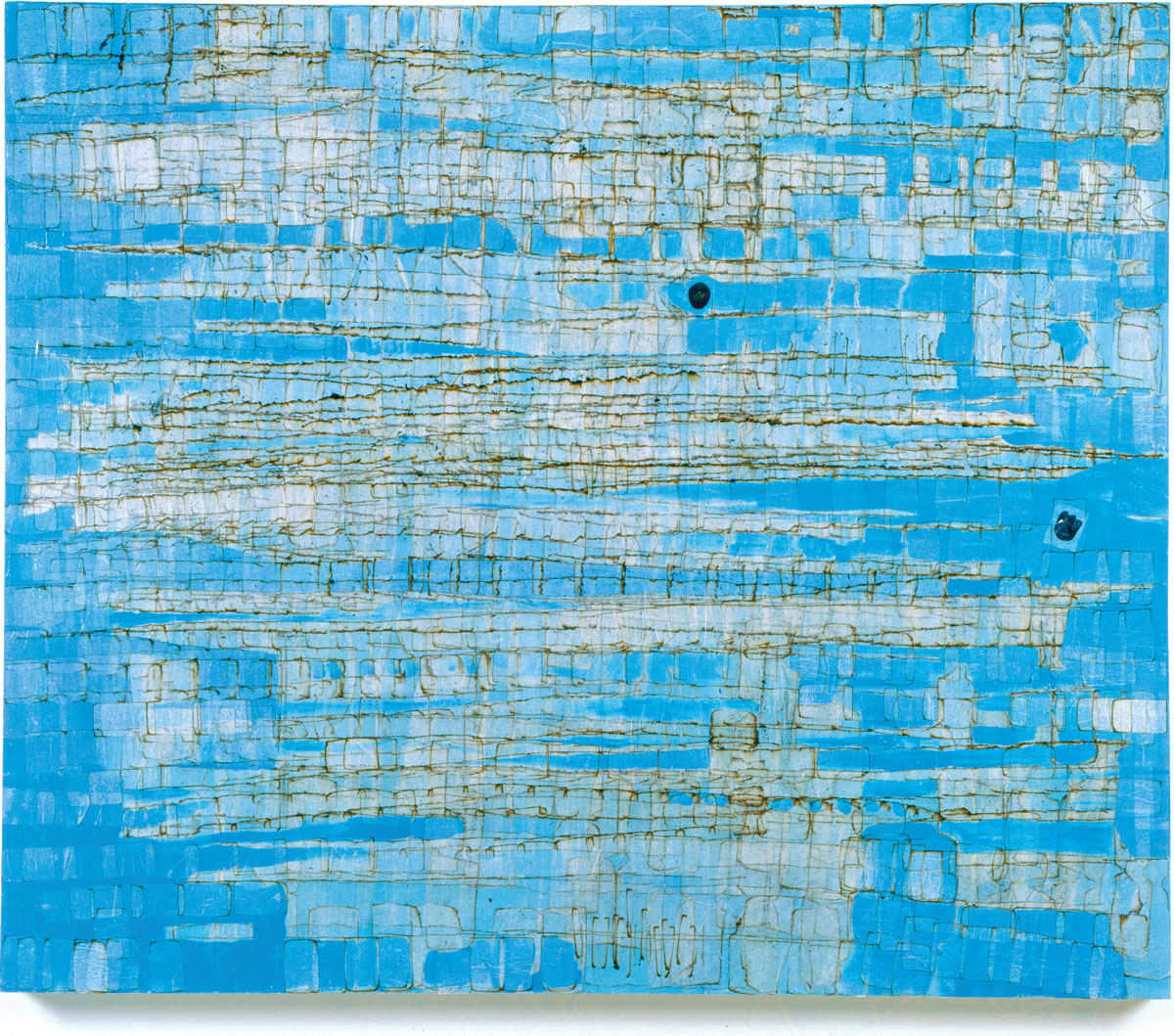 On a clear day, I can usually see all the way to Watts, 2001. Mixed media on canvas. 72 × 84 inches. The Bluff Collection. © Mark Bradford
Find out more about events related to the Mark Bradford: End Papers exhibition.
Gain more insight about Mark Bradford through additional content from the Tate Modern, 60 Minutes, Bloomberg TV, CNN, Wall Street Journal, Washington Post, and Artnet News.
Curator Michael Auping's thoughts on Mark Bradford's work Click
Join and receive free admission to the exhibition and the Party with the Artist, March 4!
This 125-page full-color catalogue, featuring more than 70 images, documents the exhibition and includes an essay by curator Michael Auping and an interview with the artist.
Plan your visit to the Modern. If you are visiting from out of town, plan your trip to Fort Worth.
---
Lead exhibition support is generously provided by the Texas Commission on the Arts. Major support is provided by Hauser & Wirth and the Fort Worth Tourism Public Improvement District, with additional support from Suzanne McFayden.