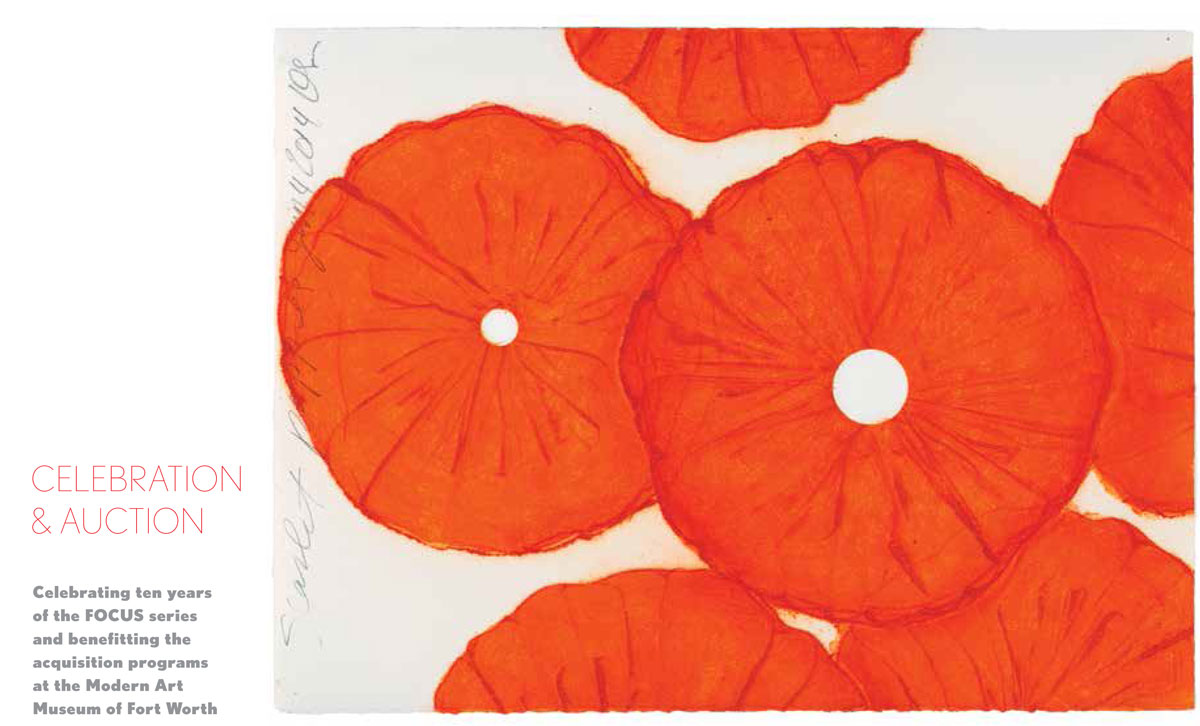 The officers of the Director's Council request the pleasure of your company for a
CELEBRATION & AUCTION
Celebrating ten years of the FOCUS Series and benefitting Future Acquisitions and Programming for the Director's Council FOCUS Exhibition Series
Saturday, May 10, 2014; 6:30 pm
Modern Art Museum of Fort Worth Grand Lobby
Silent Auction begins at 6:30 pm
Live Auction begins at 8:30 pm; Live Auctioneer provided by Heritage Auctions
DJ, Paul Andrews
Cocktail Buffet / Cocktail Attire
Admission to this event is by reservation only. Tickets are limited, so please reserve early. Buy your tickets online or call 817.840.2115.
$425 non-member, $325 member, $225 Director's Council members
Preview the auction objects here.
Join us for a SNEAK PEEK in Cafe Modern, April 28, 4-6 pm (for ticket holders only).
Pre-bidding on select items here.
Bidding on all other items will begin at the event on May 10.
Artworks confirmed to date include donations from the following artists who have participated in museum programs over the last 25 years.
David Bates, Ed Blackburn, Dennis Blagg, Nigel Cooke, Rosson Crow, Teresita Fernandez, Vernon Fisher, Barnaby Furnas, Nancy Graves, Terry Haggerty, KAWS, Robert Lazzarini, Vera Lutter, Barry McGee, Cornelia Parker, Erik Parker, Katie Paterson, Ged Quinn, Ranjani Shettar, Yinka Shonibare MBE, Donald Sultan, Fred Tomaselli, Kehinde Wiley, Michael Zwack
Estimates for artworks currently range from $1,000 to $80,000.
Alcon is a proud supporter of the Modern and the FOCUS series.