Contemporary Dance/Fort Worth presents Allana Lindgren
Photo by Joyce Marshall
CD/FW dancers L to R: Tina Mullone, Jessica Thomas, Amanda Wright
Motherwell and Modern Dance: Activating Creativity through Automatism
Guest lecturer Allana Lindgren (University of Victoria, BC) presents "Motherwell and Modern Dance: Activating Creativity through Automatism"
Lecture and Q&A
Museum Auditorium
Free admission*
The opening event of the 17th Modern Dance Festival at The Modern
Presented by Contemporary Dance/Fort Worth in collaboration with the Modern Art Museum of Fort Worth
Celebrating the Robert Motherwell: Pure Painting exhibition and CD/FW's "Thirty-Something" Anniversary
In the 1940s, automatism, in its various forms, was a powerful accelerant for creativity. This talk transposes Robert Motherwell's ideas about plastic automatism to modern dance using the choreography of Françoise Sullivan, a member of the Montréal Automatists, as a case study. These artists' innovative experiments with automatism can serve as catalysts for anyone interested in activating new sources of inspiration. June 10, 2023, also happens to be the 100th birthday of Francoise Sullivan, who is still actively creating work! Video examples of Sullivan's work will be featured, including her 1948 automatist work, Dédale. Learn about and celebrate this great artist who is also a painter, sculptor, and photographer in addition to being a dancer and choreographer. Audience Q&A will be offered at the end.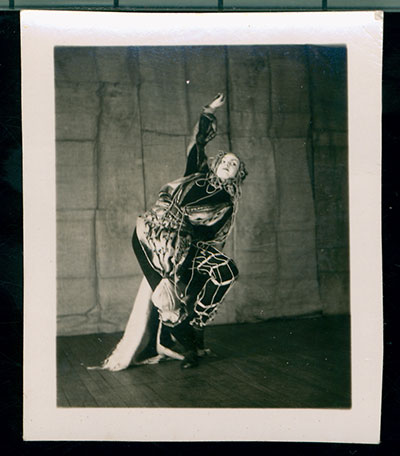 Allana Lindgren, PhD, is the Dean of the Faculty of Fine Arts at the University of Victoria. She has published in a variety of journals and collections, including The Oxford Handbook of Dance and Ethnicity, Dance Research Journal, Journal of Dance and Somatic Practices, American Journal of Dance Therapy, and Quarterly Review of Film and Video. Co-edited publications include Canadian Performance Documents and Debates: A Sourcebook (2022), Moving Together: Dance and Pluralism in Canada (2021), The Modernist World (2015) and Renegade Bodies: Canadian Dance in the 1970s (2012). She is also the Dance Editor for the Routledge Encyclopedia of Modernism.
*While admission to the lecture is free, regular museum gallery admission policies apply.
For more information contact Contemporary Dance/Fort Worth, 817.922.0944 or cdfw@cdfw.org.
Image credit: Françoise Sullivan in her piece Black and Tan Fantasy, 1948 / Courtesy of Dance Collection Danse