Our field trip to various art-related venues in Dallas this past Saturday proved to be a whirlwind adventure! We were welcomed into several different types of art spaces and learned a great deal about each of them in the process. A private collection, galleries, studios, and an art foundation were our visits for the day.
Our first stop was a visit to The Warehouse—a facility that houses the private collections of the Rachofsky and Faulconer families. The Warehouse belies its name's implied purpose as merely a storage facility housing artwork; it functions as both an extensive gallery and as an educational facility focusing on guided tours. Gallery teacher Francisco Moreno led us on a one-hour tour of the collection that focuses on the period of postwar art from Japan and Italy. The current installation, Parallel Views: Italian and Japanese Art from the 1950s, '60s, and '70s, pairs the Italian Arte Povera with the Japanese Mono-ha movement. These underrepresented art waves have only recently become more widely acknowledged and better appreciated through the efforts of private collectors such as these.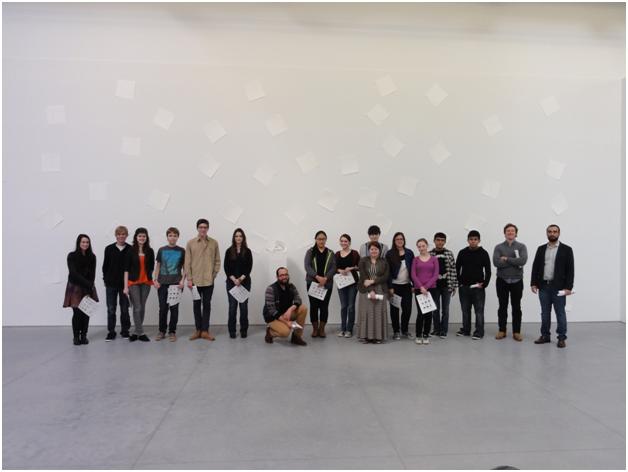 Our next stop was Circuit12 Contemporary where gallery owner Dustin Orlando gave us insight into the nature of his business—explaining how he, as a gallerist, provides a venue for artists who may be emerging or who are already established to display and sell their work to collectors. Through a frequent rotation of shows during the year, Dustin explained that he is able to create a catalog of works to sell straight off the wall or from his back stock. Galleries like Circuit12 bridge the gap between those artists willing to sell their works and consumers searching to purchase.
We then visited the Goss-Michael Foundation and spoke with Brenda Matamoros and Kevin Jacobs. Brenda spoke to us about some of the philanthropic activities that the foundation is known for: scholarships and grants, fundraising, and art competitions (like the recent contest to which some of our teen artists applied).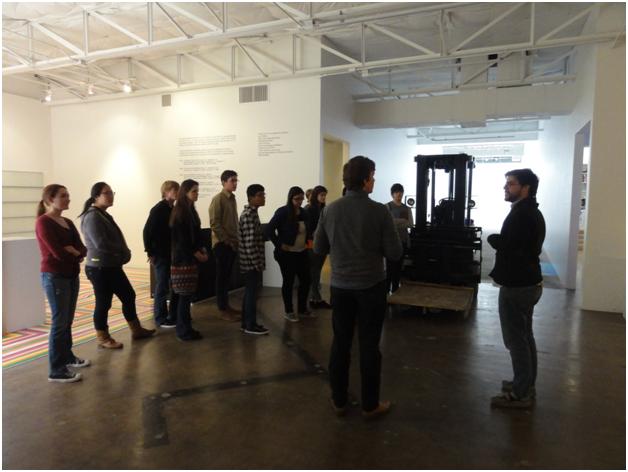 Kevin then toured us around the galleries which were between exhibitions. It was a rare chance to see a gallery space in transition and with bare walls. The Goss-Michael Foundation is another instance where a private collector has created a beneficial opportunity to foster and share art with the community-at-large. The Goss-Michael Foundation is known for its collection of art from the YBAs (Young British Artists)—a provocative group of artists that includes Damien Hirst, Tracey Emin, and Rachel Whiteread.
Next, we visited Marty Walker Gallery where artist Jay Shinn led us through his current exhibition, as well as his studio. Jay explained his practice of working with flat, geometric images given a sense of depth through the clever use of projected light.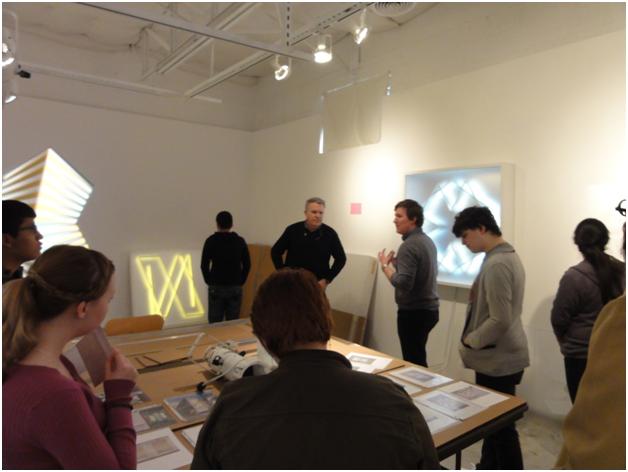 In his studio space, the teen artists were given the opportunity to look around at all of the examples of Jay's work, his trial pieces and experiments, as well as the materials from which Jay draws inspiration. It was a wonderfully educative experience to be able to see the objects Jay produces while searching for just the right materials, shapes, and arrangements to get the desired outcome.
We then visited RE Gallery + Studio where Wanda Dye, professor of architecture at the University of Texas at Arlington, has repurposed a house into a gallery and exhibition space. Having developed RE Gallery around the concept of "RE practices" (reuse, reclaim, retrofit, etc.), RE Gallery focuses on artists and artwork that is centered on up-cycling everyday, discarded material into works of art.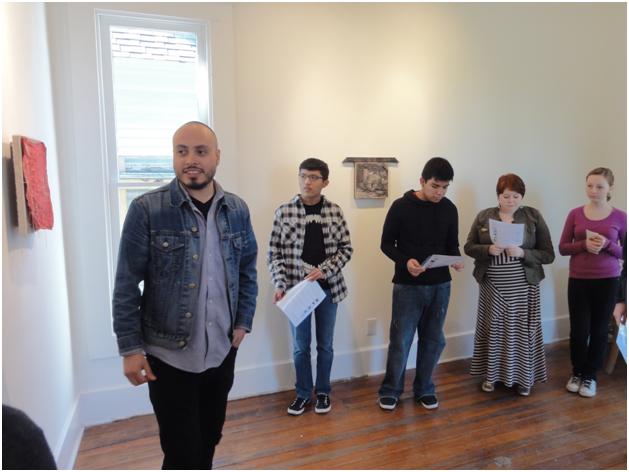 Artist Arthur Peña, whose work was being exhibited while we were visiting, gave us some insight into his practice of turning humble material into art. To illustrate a point he was making about the materials he uses, he took one of the works off the wall and let some of the teen artists hold it to feel the weight and texture of the material.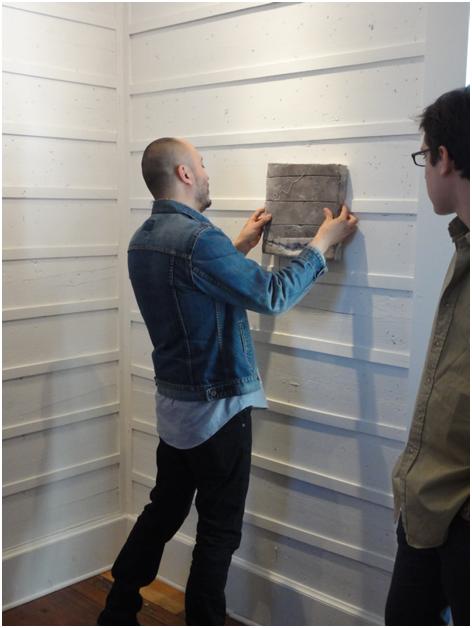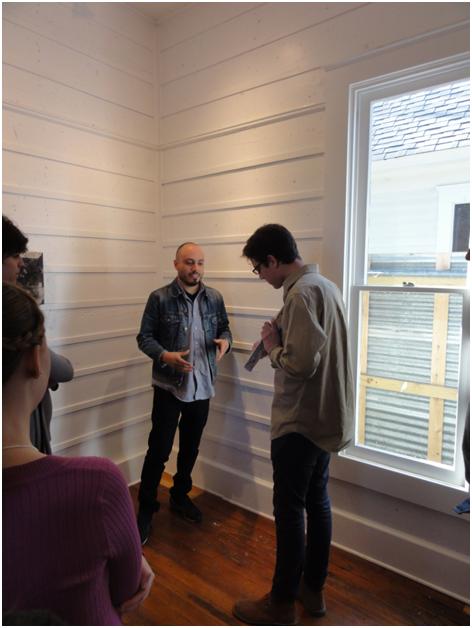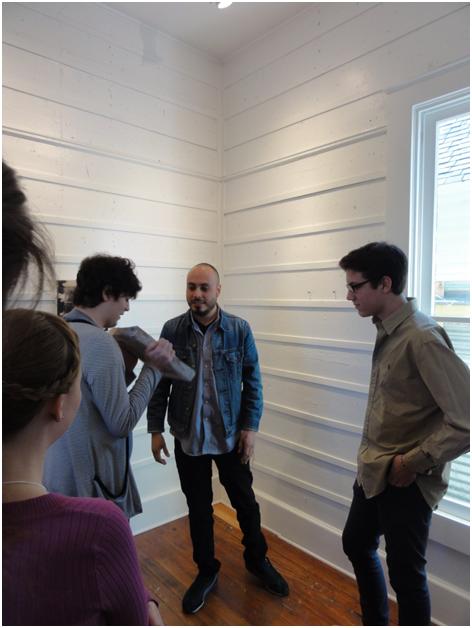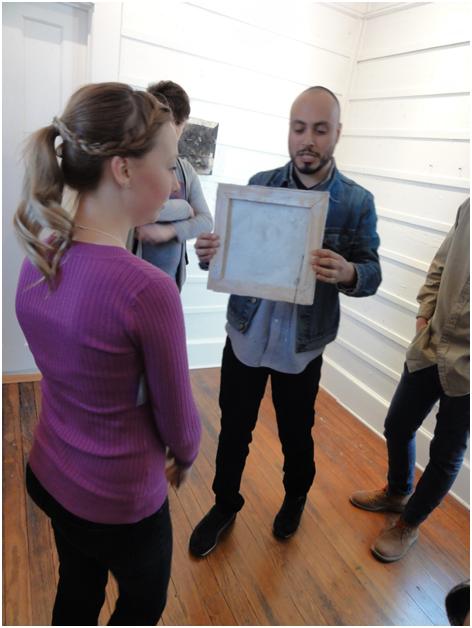 Our final stop was Homeland Security, the home of Eli Walker and Kelly Kroener. Where RE Gallery + Studio was a house renovated into a gallery space, Homeland Security is an actual home where art exhibitions are intended to directly engage a domestic space. Eli and Kelly shared with us that Homeland Security exists as an alternative space to other kinds of galleries and exhibition venues.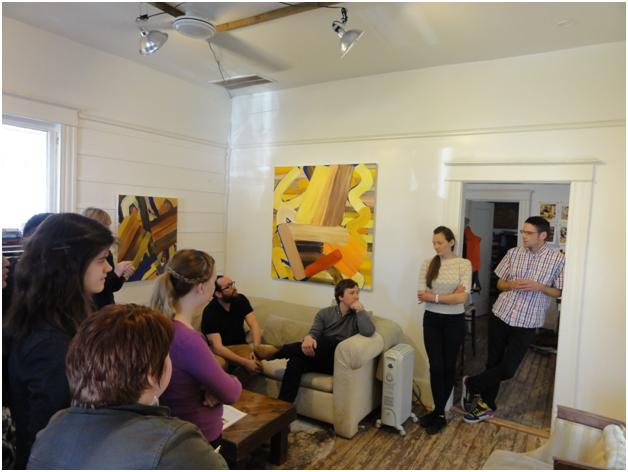 Since it is a home where people live, the nature of the exhibition space is perceived to be radically different in character from other more formal and traditional galleries. This alternative space arose out of Eli and Kelly's own brand of do-it-yourself, out-of-the-box thinking: put artwork on display, invite people over, shake and stir, and voilà! you have an art opening.
All in all, the field trip was wildly informative for the teen artists. It provided several new ways to consider art practices, reach the public and consumers, market toward collectors, and exhibit in formal spaces, as well as alternative, nontraditional venues.