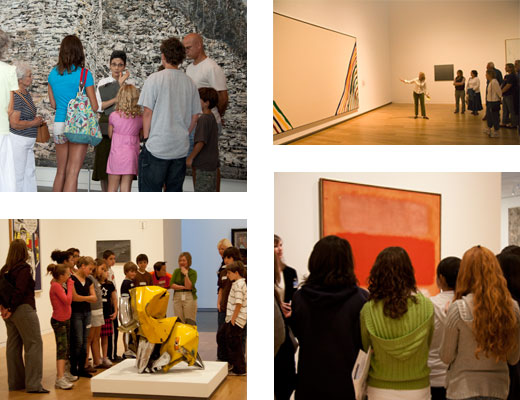 Tours led by Museum-trained docents provide a unique experience based on close viewing and conversation. All tours are free for Modern members and free to the public with admission to the galleries. Groups with special needs are always welcome. For information or to schedule a tour, please contact the tour coordinator at 817.840.2119 or contact the Education Department here.
Public Tours
Docent-led tours are offered Tuesday through Sunday at 2 pm. Public tours focused specifically on current special exhibitions are available at 2 pm on the first Saturday of each month. These tours do not require prior arrangements and begin in the Museum lobby.
Group Tours
Docents are available to conduct group tours of the permanent collection, special exhibitions, or an introduction to the highlights of both. These tours can accommodate 10 to 120 people and last approximately one hour. Tours must be scheduled at least two weeks in advance of the requested date.
Foreign Language Tours
Docents are available to conduct private tours in Spanish, French, German, and Mandarin when reservations are made at least two weeks in advance.